We're rounding up what Etiket offerings our talented and knowledgeable team members have fallen in love with and we are thrilled to share their current must-haves! Spanning categories such as skincare, hair care, body care, fragrance and more, let's dive into what has stolen everyone's heart, shall we?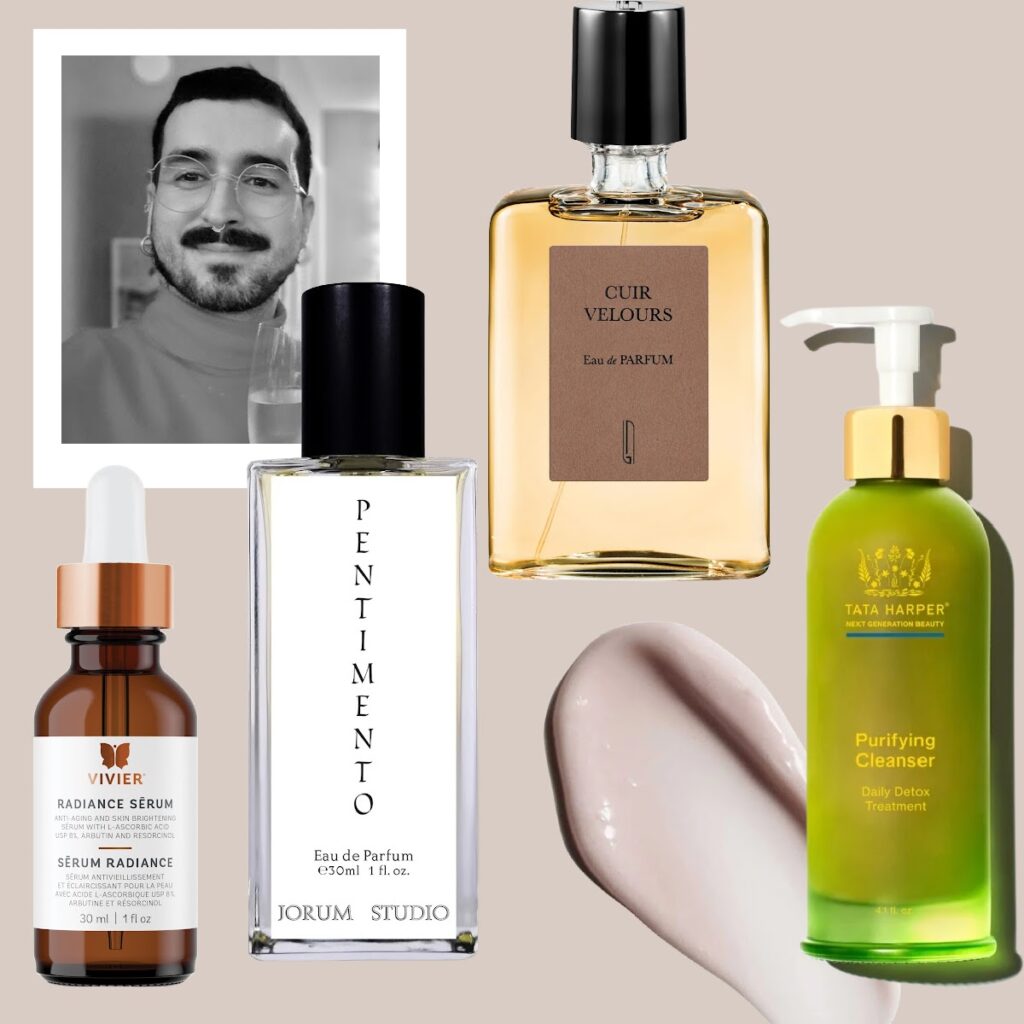 Pentimento EDP by Jorum Studio
Pentimento sweeps me off my feet every time with its rich, decadent character. For me, it's like putting on a cashmere knit. Carob, rum and tonka bean absolute with vanilla, hazelnut and tobacco flower are all good reasons to grab it whenever the temperatures drop.
Cuir Velours EDP by Naomi Goodsir
On my skin, Cuir Velours offers a dark intermingling of tobacco and leather, with the sweet notes of rum and immortelle. Okay, understandably, I love the rum and tobacco notes. The surprising character of the leather charmed me immediately and accompanies me when I want to catch the eye.
Purifying Cleanser by Tata Harper
In the evening, I apply and massage this melt-in texture cleanser onto my skin and let it sit for a few minutes, like a quick mask. The texture, which changes from a gel to a fine oil, is so satisfying and the textured herbal and ginger notes immerse me in a deep moment of relaxation. I always take the opportunity to give my face a full body massage even when it's only 9 p.m. and my bed is already calling my name!
I can't get enough of this serum, which I apply after cleansing and toning my skin. Its formula, rich in vitamin C, arbutin and resorcinol, gives me an instant glow, evens out my complexion and works over the long term by allowing my skin to age beautifully! It was suggested to me by Naomi (from the Etiket team, and I thank her!).
---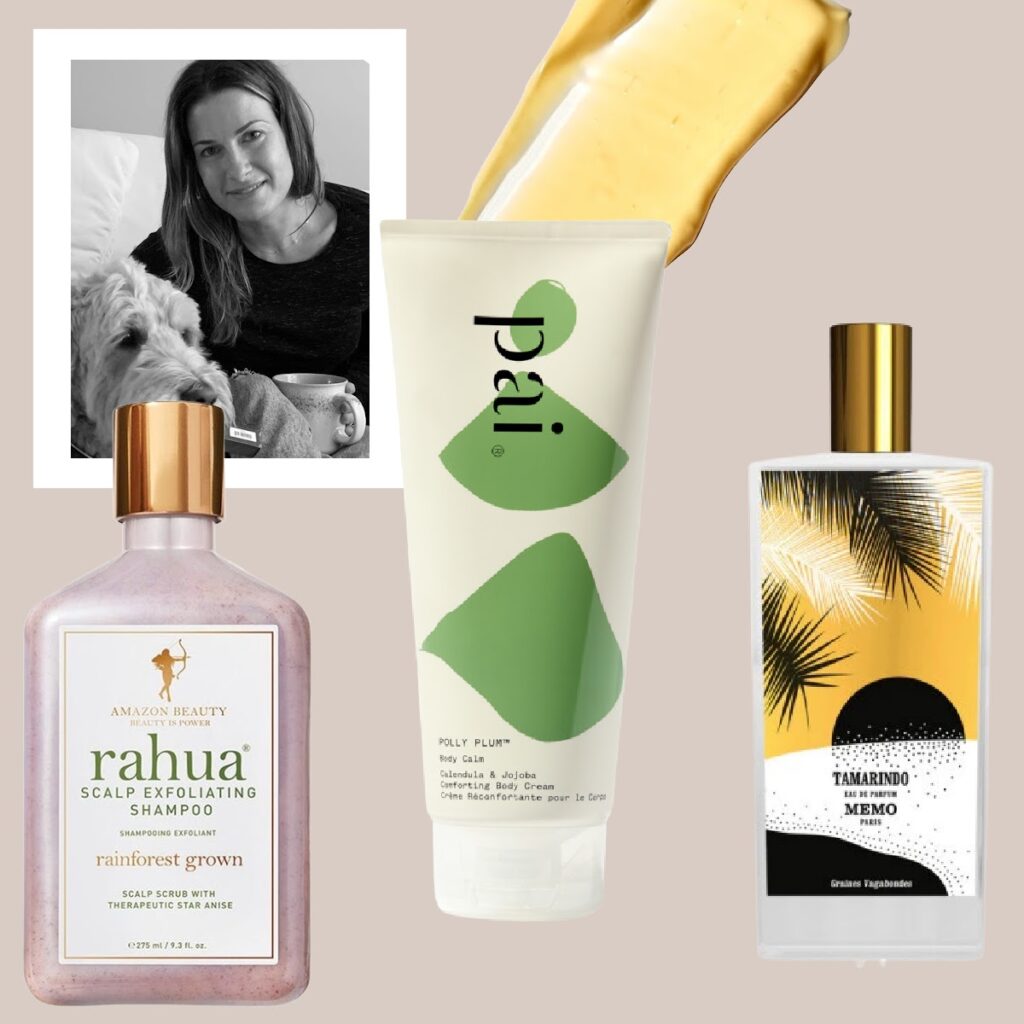 Tamarindo from Memo is the perfume I'm loving right now. It reminds me of escaping winter in Canada and heading to the beach in Costa Rica. A blend of pineapple, vanilla, bergamot and patchouli makes this scent warm and wild.
Polly Plum Comforting Body Cream by Pai Skincare
Polly Plum from Pai is a calming and hydrating body lotion that I love for winter. It's fast absorbing on the skin and easy to apply in the morning. This is a wonderful product to help protect the skin in colder weather. For those who suffer from itchiness and inflammation (eczema/psoriasis), this is THE product for you!
Rahua Scalp Exfoliating Shampoo
Rahua's Scalp Exfoliating Shampoo is my current hair obsession. When treating our hair we need to treat our scalp for optimal hair health.
Our new HydraFacial MD JLo Glow is my new spa treatment obsession. The only HydraFacial to firm and restore the skin, using olive leaf extract and niacinamide along with many other ingredients to make your skin brighter, tighter, nourished and plumper.
---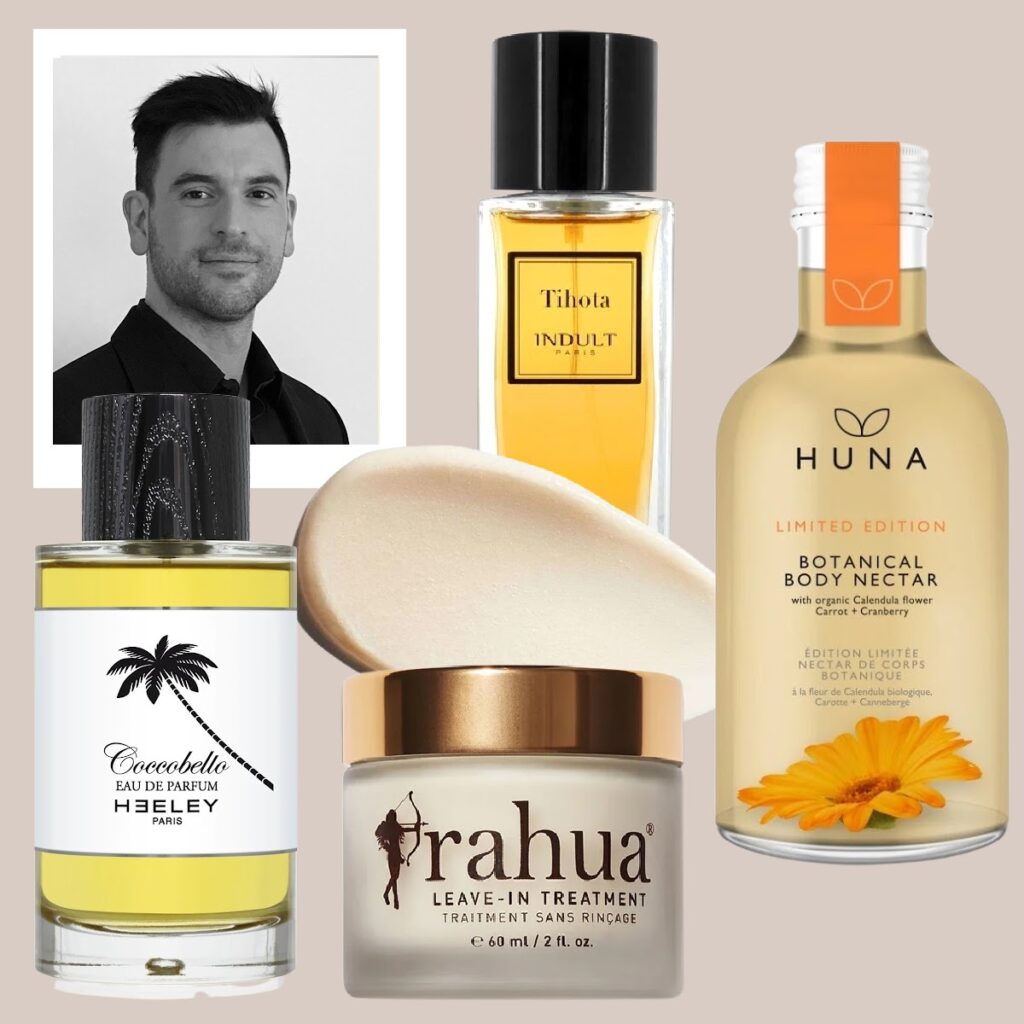 My favorite scent is Tihota EDP by Indult. I love mixing it with Coccobello EDP by Heeley. They remind me of where I was born and the good times I had on the beach.
I love Huna's Botanical Body Nectar. I love the flowery smell. It moisturizes my very dry skin well and besides being natural, the container is a really good size for its very small price.
I use this treatment every night in large amounts to moisturize my dry hair, and in the morning in smaller amounts to keep my hair moisturized all day and to help with styling. Thanks to this product I am surprised how beautiful my hair looks even after bleaching.
Tata Harper Etiket Signature Facial (with our aesthetician Samuelle!)
I love natural products, and Tata Harper's scents help me relax during my treatments. Moreover, Samuelle is very gentle and concerned about our well-being.
---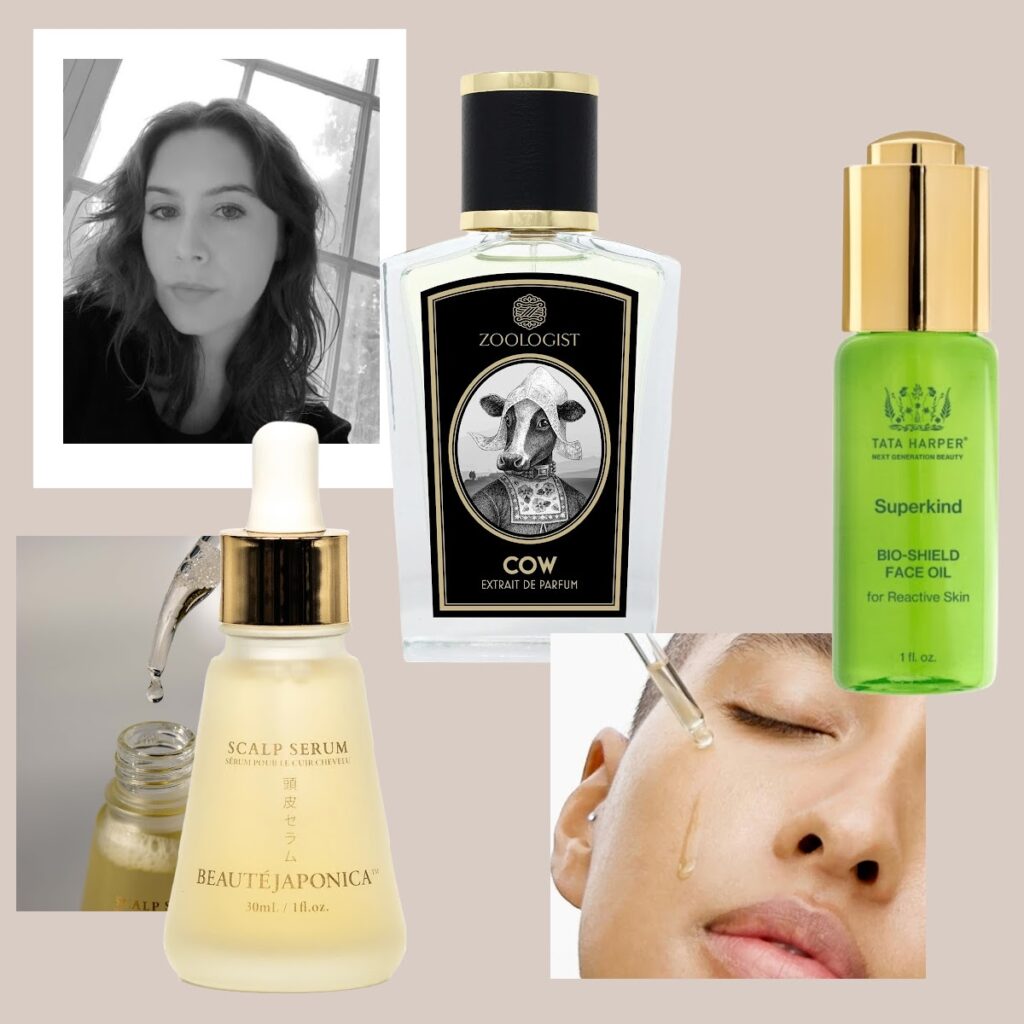 Cow Extrait de Parfum by Zoologist
This is such a cozy scent that can be worn in summer or winter, in daytime or nighttime. It paints a picture of a cozy Sunday afternoon on a white couch with a fluffy blanket, with the windows open and the faint fresh smell of the prairies. It is all the beauty of the feeling of nature and being in the outdoors and nothing else. The artistry of the bottle adds to that warm feeling as well.
Superkind Bio-Shield Face Oil by Tata Harper
My favourite beauty product of the moment is the new Bio-Shield Face Oil by Tata Harper. It has all the luxury experience of the other Tata Harper products, but with a more sensitive touch. The oil is perfect for any skin condition without having to worry about any type of reaction. I personally have been using it twice a day and have seen an improvement in my skin.
The TOHI Scalp Serum by BeautéJaponica
My current favourite hair product is the new TOHI Scalp Serum from BeautéJaponica. I appreciate the concept of scalp health intersecting with self-care and the brand taking time to make a video on how to properly massage the scalp to get the most out of the serum!
My favourite spa treatment is the HydraFacial MD JLo Glow. HydraFacials completely change the look of your skin and promote healthy cell regeneration, in combination with the glow… the results are incredible!
---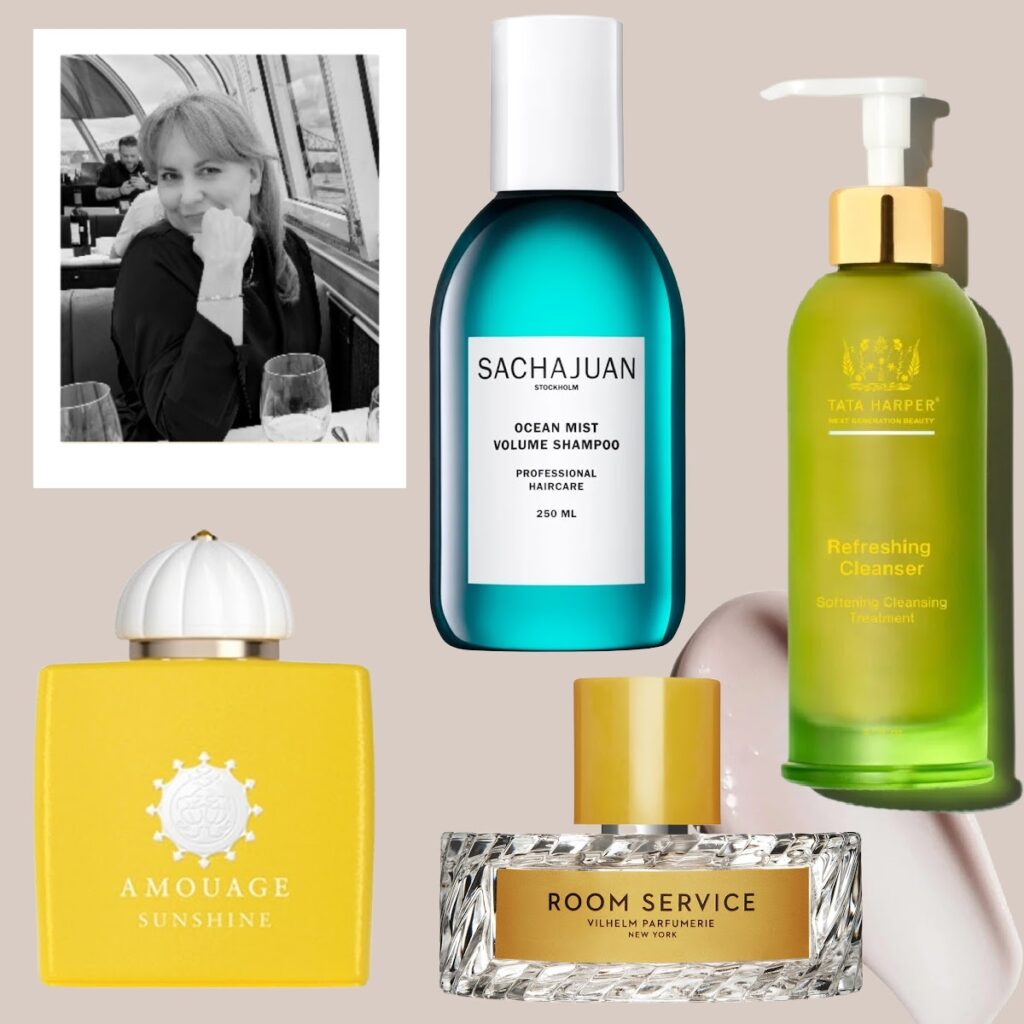 Room Service EDP by Vilhelm Parfumerie and Sunshine Woman by Amouage
I hesitate between these two as they both give me an inexplicable feeling of peace with the gourmand, fresh citrus and violet of Room Service and the white tobacco, blackcurrant and almond of Sunshine Woman. For me, these are PERFECT scents. They are also very chic for a night out.
Refreshing Cleanser by Tata Harper
Tata Harper's fresh grapefruit & aloe cleanser kicks off my evening beauty routine. It is perfect for dry skin and you only need a small amount. I really like the smell, and followed by Tata's Hydrating Floral Essence, it's perfect!
Ocean Mist Volume Shampoo by Sachajuan
For hair care, I've been using Sachajuan for over a year.
It is sulphate free, concentrated and smells divine. Perfect for coloured hair, the Ocean Mist Volume Shampoo protects the hair well. I'm never disappointed with this line, even the Shine Serum is great.
Tata Harper SuperNatural Facial
For the ultimate spa experience: Tata Harper's SuperNatural Facial. To fully unwind, Tata's facials and body treatments are a must. The enveloping maneuvers and calming scents take us elsewhere. There is nothing better than receiving a treatment to calm the body and mind.
---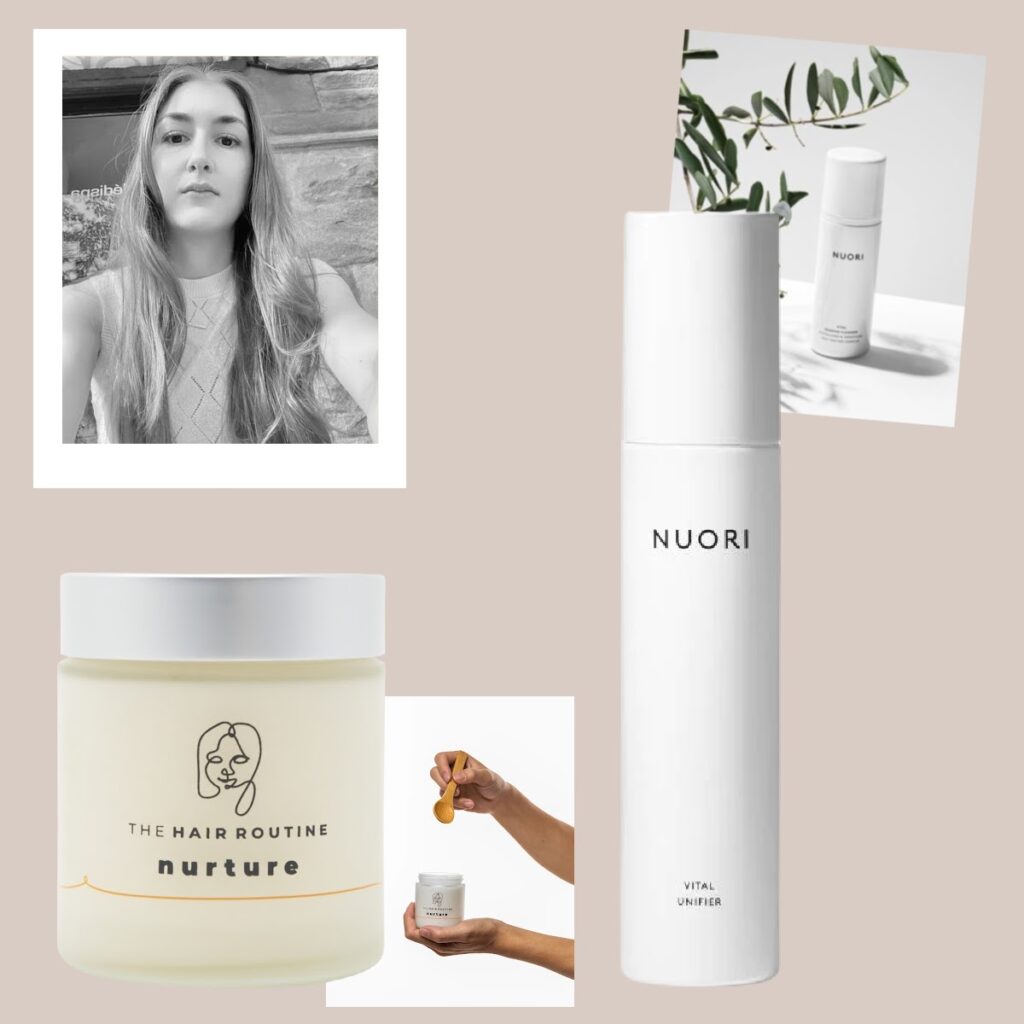 This refreshing mist toner is the newest addition to my skincare routine. I love it because it is gentle and nourishing. Chock full of antioxidants, the Unifier revitalizes all skin types and offers a soothing feeling. I love that it can be used as a toner, and as a hydrating mist during and after makeup application. I love recommending this to clients who are looking to add a multi-functional toner to their routine.
Nurture Treatment by The Hair Routine
Hands down the yummiest hair treatment that can be used in-shower or as a treatment on dry hair to tame flyaways and prevent split ends. It nourishes the scalp and hair to yield unparalleled luminosity. This treatment can be used by both men and women who are interested in an easy-to-incorporate step for their haircare routine.
---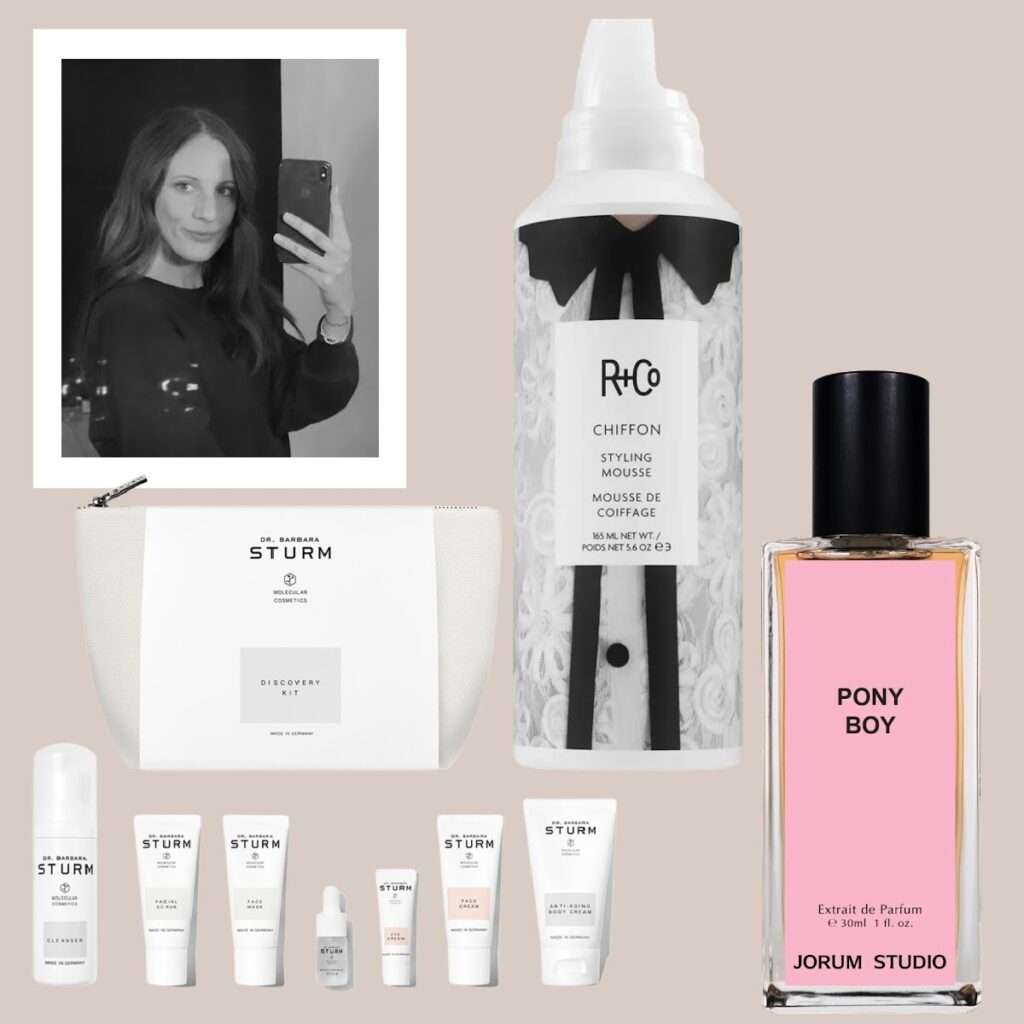 Paradisi Extrait, Nectary EDP and Pony Boy Extrait by Jorum Studio
Jorum Studio looks great and smells even better. Paradisi, Nectary, Pony Boy… Impossible to choose just one!
The Discovery Kit by Dr. Barbara Sturm
Dr. Barbara Sturm's skincare system is all about simple yet effective products. The Discovery Kit is the perfect introduction to the wonders of this brand!
Chiffon Styling Mousse by R+CO
R+CO Chiffon gives hair the right amount of hold and movement that lasts. Added bonus: the bottle looks great on your countertop!
The HydraFacial provides immediate visible results: clear, plump skin and that youthful glow we all strive for!
---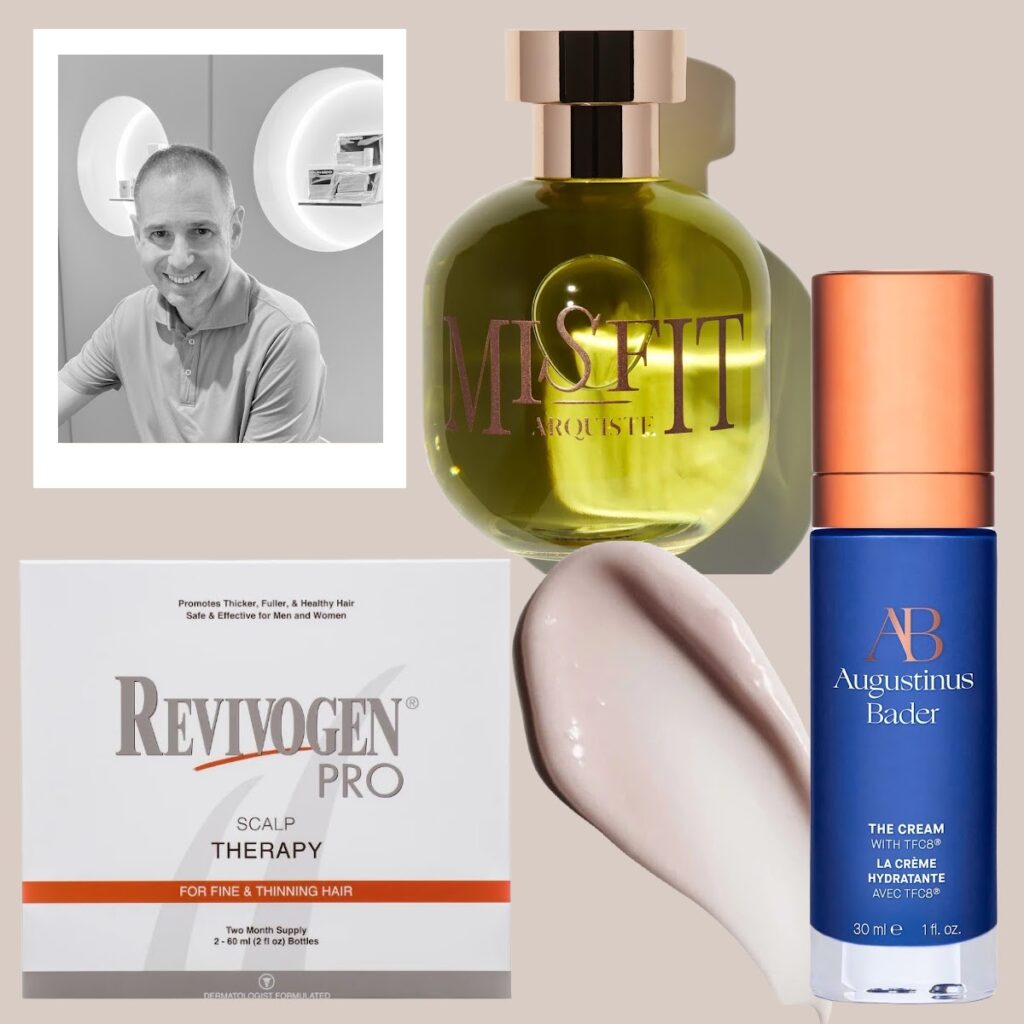 Simply put, this face cream moisturizes a lot without feeling heavy. It's a refreshing, yet deeply hydrating luxury cream.
I love this decadent, elegant patchouli fragrance. It smells incredible and is a scent I get complimented on every time I wear it.
If you are experiencing hair loss, this is a safe and effective topical solution for thinning hair, formulated with nature's most powerful ingredients for thicker, fuller, and healthier hair.
The Men's Facial by SkinCeuticals
This treatment is designed to renew your skin, clean up those blackheads and soothe razor burn and ingrown hairs. You will be able to take on the world after this treatment.
---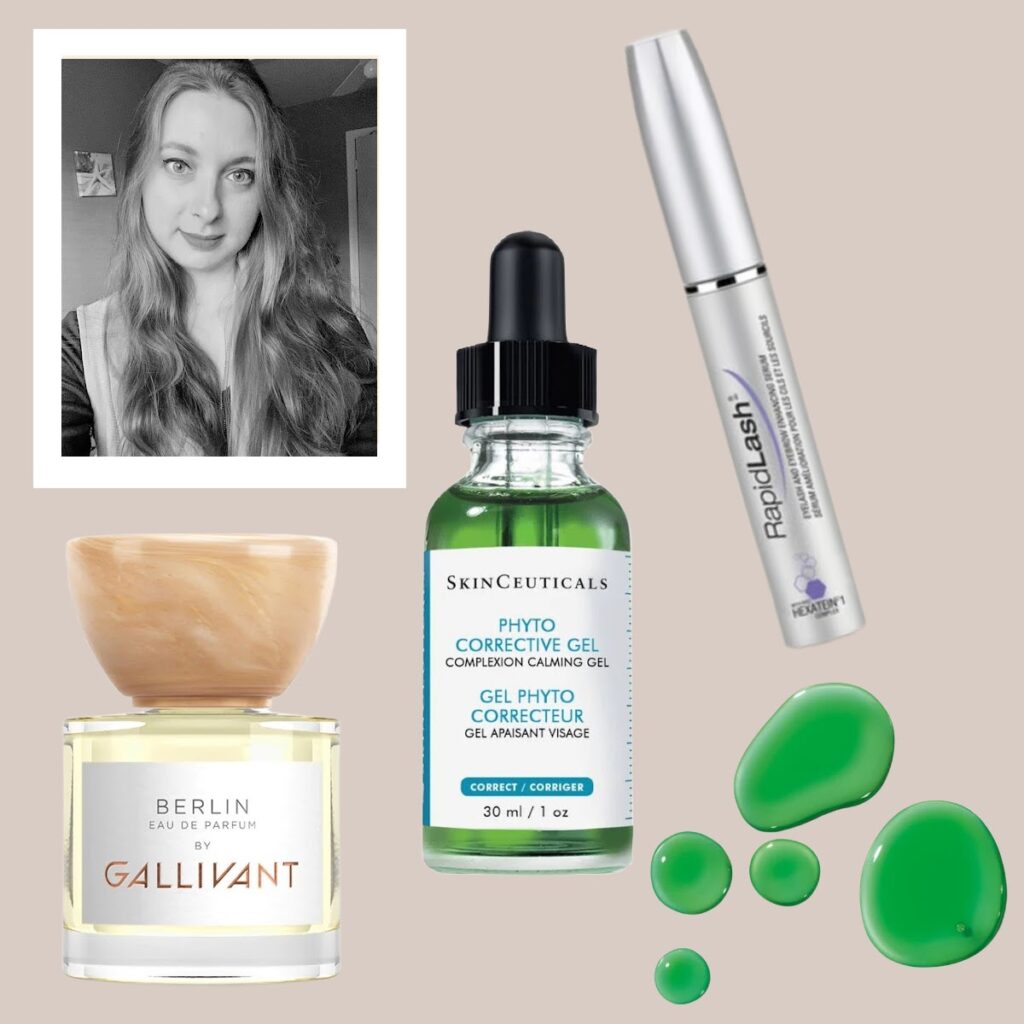 Berlin is one of those scents that instantly transports me back to a summer vacation travelling Europe. If you are a fan of citrus, you have to give this one a sniff!
Eyelash & Eyebrow Enhancing Serum by RapidLash
I love this product from RapidLash. I have been using this lash and brow-enhancing serum on and off for the last few years, and anytime I start using it again, my lashes and brows look more defined and elongated within a couple of weeks of daily use.
Phyto Corrective Gel by SkinCeuticals
The SkinCeuticals Phyto Corrective Gel is amazing if you have skin that is prone to redness. It feels instantly soothing and I really enjoy the calming effect it provides prior to applying my moisturizer.
This a great treatment for those with congested and acne-prone skin in need of a total reset that won't aggravate the skin.
---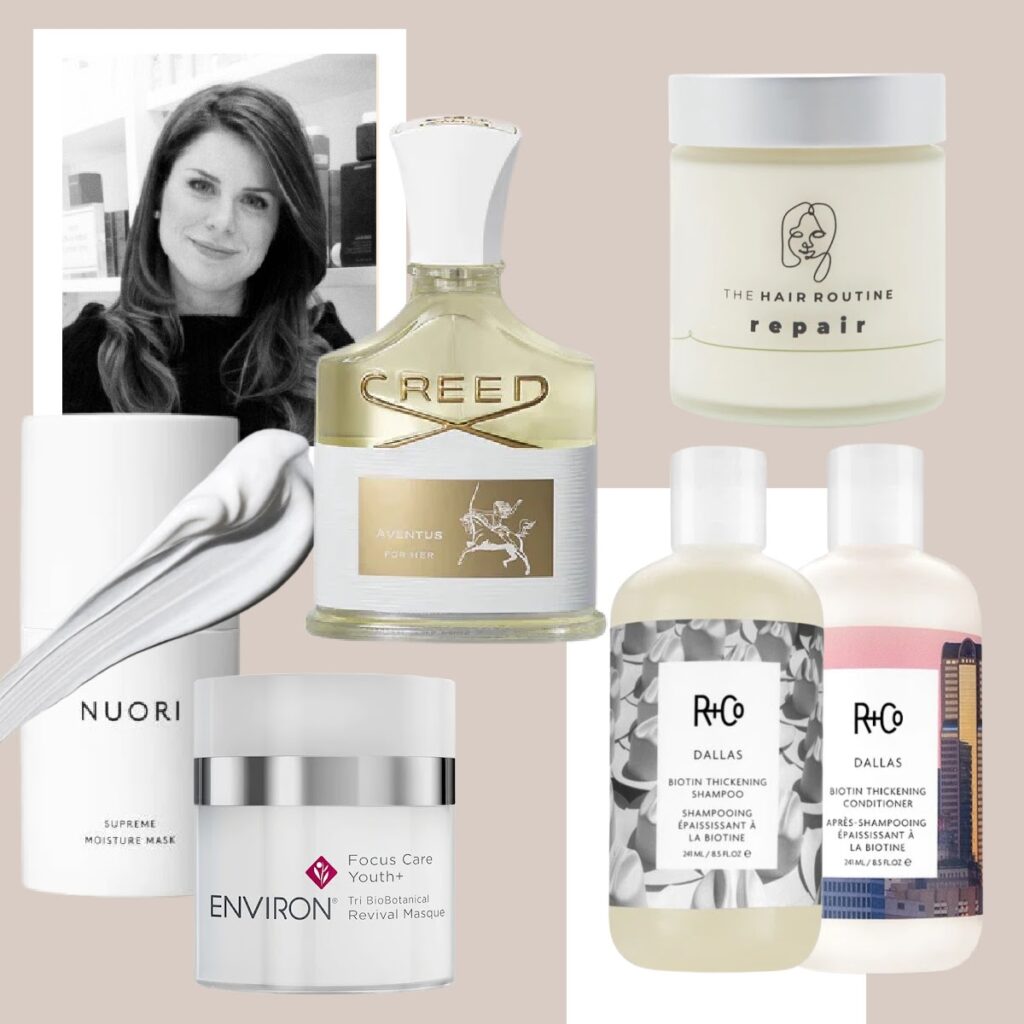 Tri BioBotanical Revival Masque by Environ and Supreme Moisture Mask by Nuori
During winter, my skin needs both exfoliation to reveal its luminosity and hydration to give it a beautiful glow and dewy look. Once or twice a week, or before a night out or a special event, I like to combine Environ's Revival Masque, also known as the "Facelift in a Jar" since it really helps improve the overall appearance of skin (it makes it smoother, firmer, more even, brighter and tighter) with Nuori's Supreme Moisture Mask, which helps soothe, plump and hydrate the skin. It can even be left on overnight if desired.
Dallas Biotin Thickening Shampoo and Conditioner by R+CO
At the start of winter, because of drier air, having to wear a hat, etc., I was experiencing static hair. Having your hair stand up straight and be unmanageable is quite the annoyance. I had to adjust my hair routine with a shampoo and conditioner duo that is more moisturizing by R+CO. Since I prefer added volume, I opted for the Dallas collection. I also incorporate a mask routine from The Hair Routine to keep my hair as healthy as possible. My hair problems were instantly fixed.
I recently fell in love with Aventus for Her by Creed, newly landed at Etiket. Although very different from my usual signature scent (Molecule 01 by Escentric Molecules), this fresh and floral scent, inspired by some of the most powerful women in history (empresses and queens and heads of state who were Creed customers) and modern women who are both imposing, resolutely feminine and assertive, is most addictive.
HydraFacial MD and Intraceuticals Oxygen Treatment
During my last few spa visits, Ivy combined two of my favourite treatments: the HydraFacial MD and the Intraceuticals Oxygen Treatment for hydrated, plumped and luminous skin. Treat yourself to a facial to feel revitalized or before an event for an instant lift.
---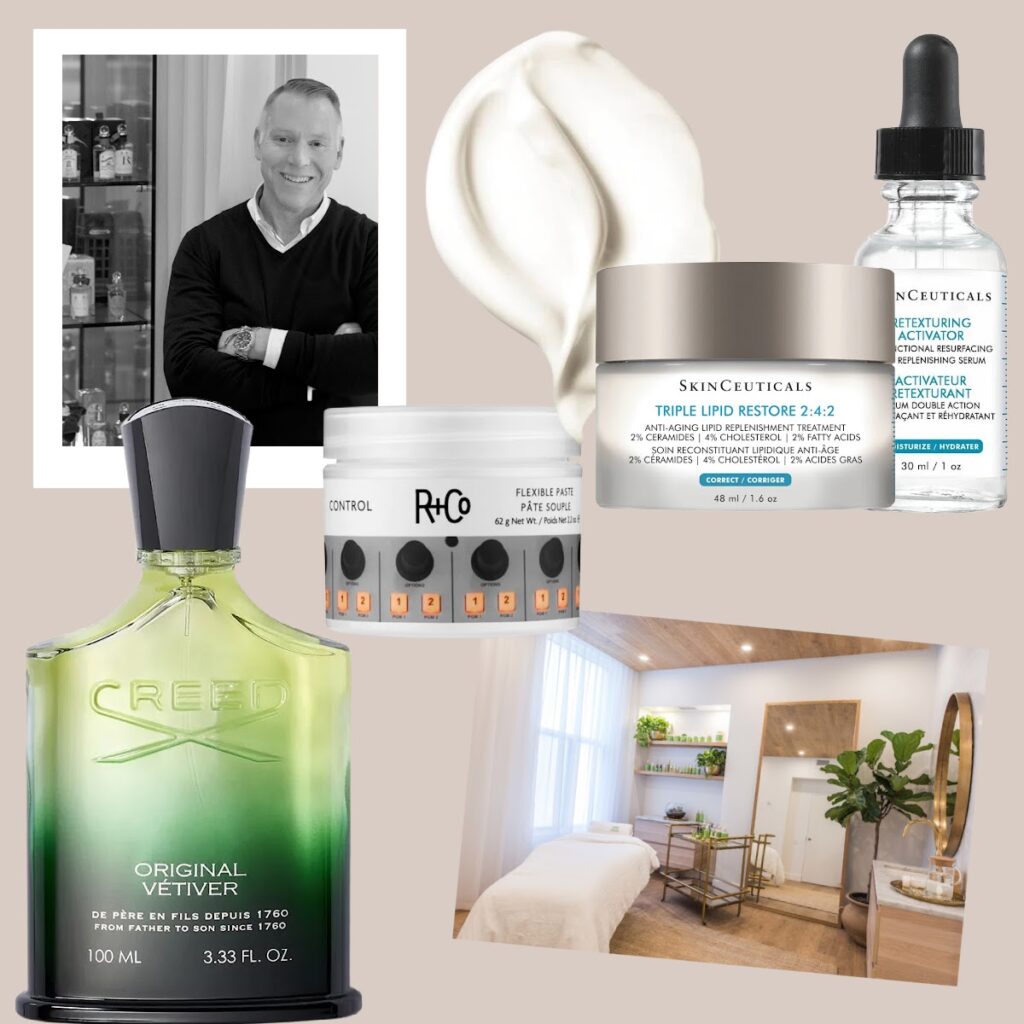 Retexturing Activator and Triple Lipid Restore by SkinCeuticals
I am rediscovering the Retexturing Activator for my night time routine from SkinCeuticals – Cleanse, Tone, Retexturing Activator – another layer of toner and then Triple Lipid Restore. It exfoliates AND gives me that extra layer of hydration that I want in the cold dry winter.
Control Flexible Paste by R+CO
I am not someone who spends a lot of time on my hair. As they say, a little dab will do you and I can put it in damp hair and be done, or for some extra lift blow dry when I want to have that Harry Styles vibe. Harry may not think so though….
This takes me back to when I was 16 and I would spray my brother's Eau Sauvage on before sneaking into the disco – don't forget, this was 1979! The Creed Vetiver is a beautiful fresh scent that holds its own; classic or not!
It is always a Tata Harper facial – any one of them! From the minute it starts – breathing in the aromatic scents, the masks, until the final massage and layer of cream – I know I am going to come out relaxed and see a difference in my skin and in me!
---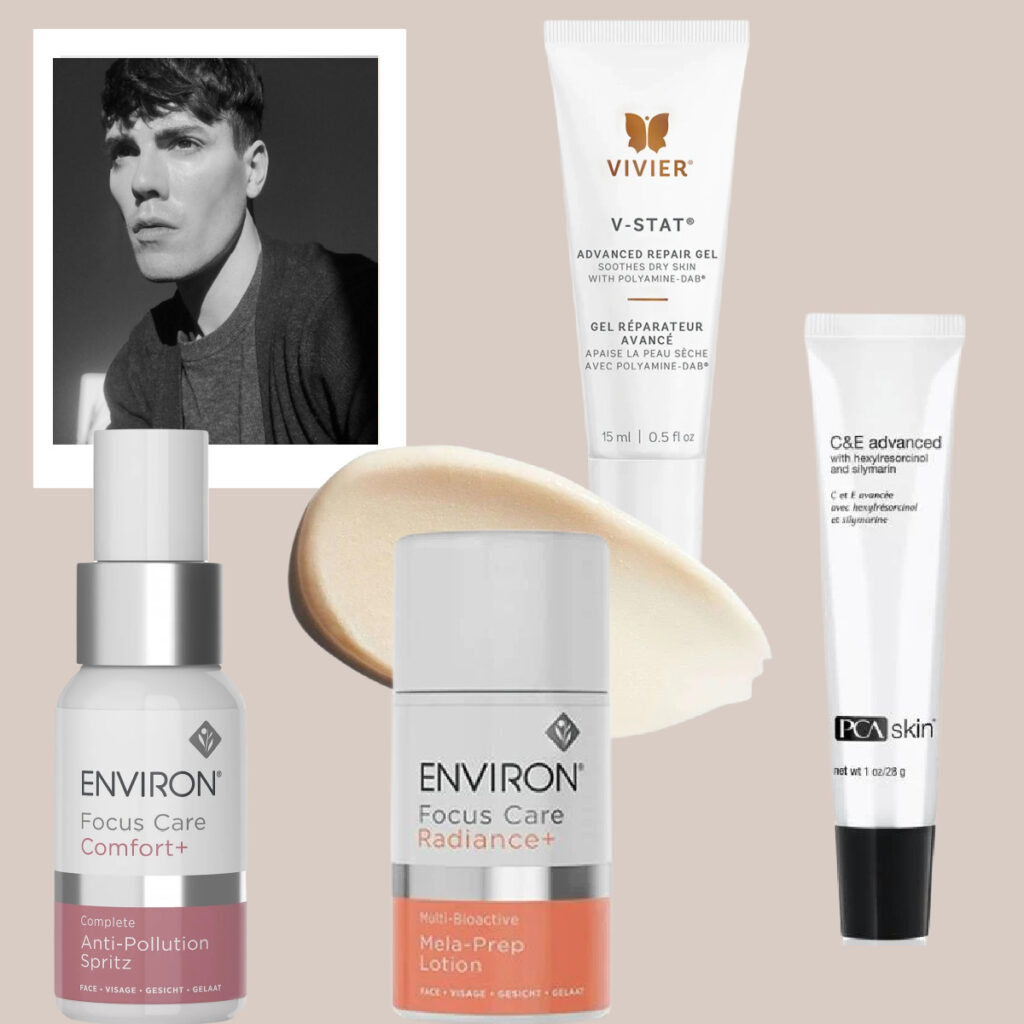 V-STAT Advanced Repair Gel by Vivier
I use this healing gel from Vivier enriched with Polyamide-DAB when my skin is irritated by the use of retinol, or by extreme cold. I use it as the last step in my routine. It is also an effective treatment for chapped lips with the anti-aging benefits of Polyamide-DAB.
C&E Advanced with Hexylresorcinol and Silymarin by PCA Skin
PCA's Pure Vitamin C Antioxidant Serum is our most concentrated serum with 20% ascorbic acid, 5% tocopherol (vitamin e) as well as hexylresorcinol which is a fantastic ingredient for pigmentation spots & irritations. Clinical studies have shown that 0.5% hexylresorcinol is as effective as 2% hydroquinone. The addition of silymarin makes it an excellent choice for acne-prone skin.
Multi-Bioactive Mela-Prep Lotion by Environ
I love using this as a toner after my cleanser. It targets pigmentation spots and acne scars. It combines the power of niacinamide for its sebum-regulating effects, alpha arbutin for its skin-lightening properties, and undecylenoyl phenylalanine, a derivative of phenylalanine, an important amino acid for slowing down melanin production.
Complete Anti-Pollution Spritz by Environ
I love using this anti-pollution spray to protect my skin from the harmful effects of the sun and urban pollution. Combining an algae complex including chlorella, as well as a vitamin C derivative.