Viola Bloch founded Mahoni in 2019 with a line of manuka honey products to help others reap its health benefits and create the perfect manuka products with features that other brands were always missing: easy application, precise concentrations, certified sourcing, and backed by scientific research.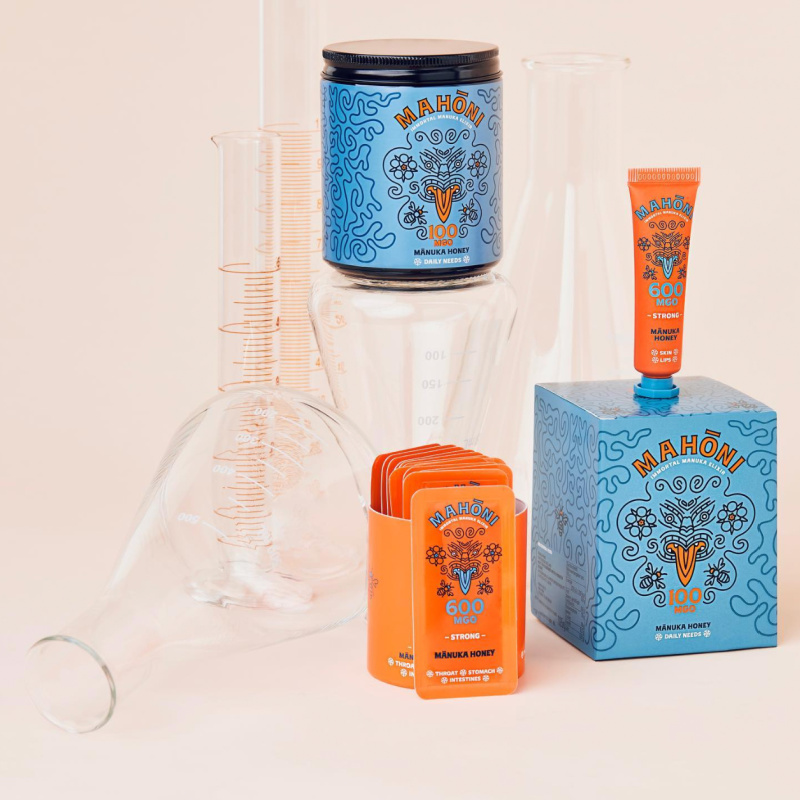 Having suffered from cold sores for many years, Viola was on the hunt for an effective solution and tried many products but nothing worked as well as manuka honey. This led her to do a deeper dive into the virtues of this powerful ingredient. Wanting to share her passion for manuka honey with the world, she decided to create her own line and showcase it as the perfect remedy for daily health emergencies in the form of three products: Skin Remedy, Daily Boost and Inner Remedy.
Q&A WITH FOUNDER VIOLA
When we discover a new product line, we are as interested (if not more) in the products as the person behind them. We are always curious to know how a brand came to be, to know the founder's background, etc. – that is, we have this crazy desire to know everything about the brand in order to really understand it. Our team conversed with Viola and asked her all the questions that were on our minds. Learn with us about Mahoni and the woman behind the brand.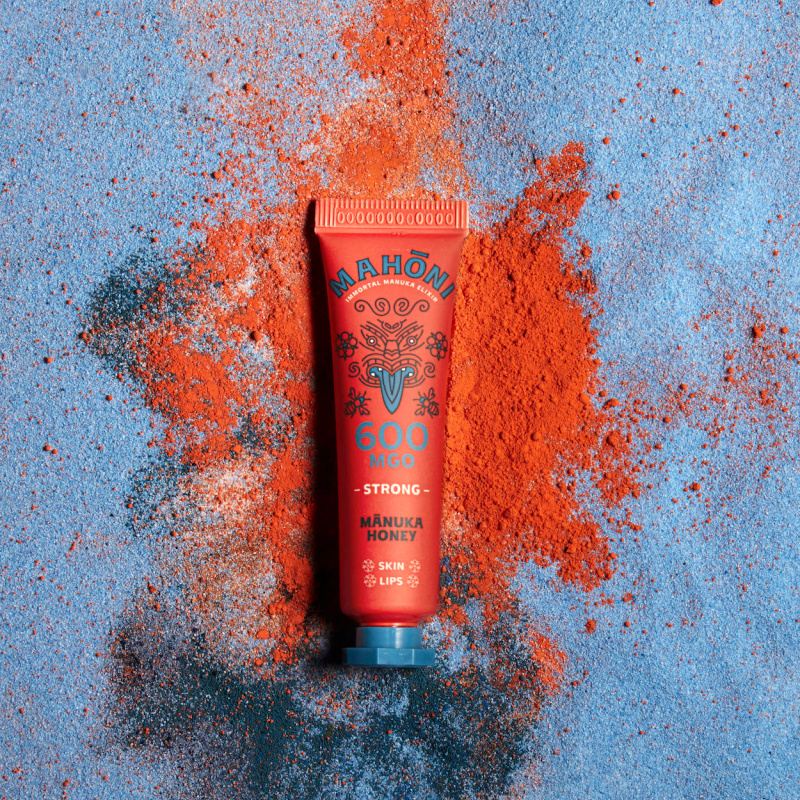 Can you tell us a little about your personal/professional background?
Viola: "I started off my career working in media, being passionate about news and the evolving landscape of digital media. At the same time I have always loved entrepreneurship, coming from a very entrepreneurial family. But I became an entrepreneur by chance – not for sake of being my own boss – when there were products I needed that I simply couldn't find."

When and how did you come up with the idea to create Mahoni?
Viola: "I first discovered manuka honey years ago as an effective way to soothe my cold sores. Previously having tried many remedies for cold sores, for me personally, nothing seemed to work. Everything changed when my mother read that manuka honey from New Zealand would help. I was very skeptical at first, but it worked! From that point on, whenever I felt the tingle coming in the early stage of a cold sore, I immediately put manuka on. I also started applying it to soothe sore throats. Research on manuka honey shows its science-backed benefits and unique potency. It quickly became my go-to for various common ailments, but I was quite unhappy with the products on the market. I wanted manuka honey to be portable, applicable, practical and have the right concentrations. After being a manuka honey pro for so many years, I had a pretty good idea of what the products should be able to do, and was confident that others would find them helpful too. So I decided to go for it! I was excited at the prospect of more people knowing about manuka honey, and reaping its amazing benefits through great products."
What makes Mahoni unique? In other words, why would someone pay $69 for Mahoni's honey as opposed to the $12 product available at their local health/grocery store?
Viola: "Manuka honey is unlike any other honey. It is the only honey that has intensely high levels of methylglyoxal (MGO). This is the natural compound that is responsible for the strong antibacterial, anti-inflammatory and wound-healing properties. Its natural benefits are truly unique to this type of honey. Furthermore, manuka honey potently grows almost exclusively in New Zealand, and the manuka flower only blossoms 2-6 weeks per year. It's truly a rare and precious natural resource. What makes Mahoni unique is that we independently lab test every batch of honey, not once, but twice! First in New Zealand and again in Germany. 90% of manuka honey sold worldwide is not real. So it's important for us to take the extra steps to deliver the highest quality, authentic manuka to our customers. In addition, our line is developed around specific use cases. Meaning: We make sure that each product has a dedicated purpose, a benefit and the right level of MGO."
Any tips or tricks that you can share with us on how we can use your products? Is there an unconventional way to use any of your products?
Viola: "Our products are a little unconventional because you can use them inside and outside. They are made for topical use (on skin and lips) and for oral use (e.g. for the throat). It's amazing because there are few ingredients like this that are 100% natural, toxin-free, but also highly effective and science-backed."
What makes you proud of Mahoni?
Viola: "That it's loved by so many around the world! The emails I receive from customers writing me "my eczema has never healed faster" or "the sachets have such a soothing effect for my throat". Those are really proud moments. For every product sold, I know that it's authentic manuka honey in quality packaging with effective application. We go out of our way to supply amazing natural remedies and it's fun to see people discovering manuka honey through Mahoni. Fills me with so much pride and joy!"
What are the main benefits that someone can see or experience using your products?
Viola: "They are very versatile natural remedies that can be used in day-to-day life. The Skin Remedy helps with skin outbreaks, acne, soothes symptoms of cold sores and eczema. The Inner Remedy helps soothe symptoms of sore throats, and the Daily Boost provides a daily immunity boost rich in antioxidants."

Can you explain the strength levels? What do they mean?
Viola: "This can be a bit tricky at first, as manuka honey is the only honey that has different potency levels. What we mean by that is the level of methylglyoxal (MGO) found in the batch of manuka honey. Manuka honey can range from 100 MGO to 1000 MGO. The higher the number, the stronger the potency of the honey. We offer two strengths: 100 MGO, which is good for moderate daily use. 600 MGO is ideal for more acute purposes, on days when you are looking for a stronger effect. For levels higher than 600 MGO there has not been any conclusive research showing significantly higher efficacy."
What is Mahoni's best-selling product?
Viola: "The best-selling product is seasonally dependent. Right now, as we are approaching fall and colder months, Inner Remedy is the most popular. Our customers love to have these on hand, in their bag or pocket, for their throat. They're also a delightful afternoon pick-me-up."
Which product is a must-have? A product everyone needs in their cabinet?
Viola: "Ooh tough one! All of them. They're complementary and not mutually exclusive, as they are made for different use cases. The great thing is that they're quite shelf stable, 100% natural and healthy. No additives, no toxins, no bad conscience. If you have skin that is sensitive to cold weather, stock up on the Skin Remedy: cracked lips, dry patches, weather-induced eczema… If you want to do something for your health on a daily basis, the Daily Boost is for you: full of antioxidants, which help reduce free radicals. You can add a spoonful to your smoothie every day or put it in your breakfast in the morning. There are so many ways to incorporate it!"
What is your desert island product? Which product do you carry everywhere with you?
Viola: "I always have the Skin Remedy with me. It's small and fits into every handbag or pocket. I have this in case of a skin outbreak or sudden tingle on the lips. The antibacterial, anti-inflammatory, and wound-healing properties are amazing. Also, I always have one Inner Remedy sachet in my pocket. Little helper in need that never fails me."
How has the brand evolved since its creation?
Viola: "We are learning about our customers all the time. How they use the product, what information they seek, and what they want to know more about. Since the launch we have worked on our messaging, making the purpose of the products clearer. After all, it is a new category merging beauty, health and wellness."
How can we integrate your product into our skincare routine?
Viola: "The Skin Remedy can be used along with your current regimen. It's a spot treatment that you apply punctually (e.g. on a pimple, dry patch, …).Think of it as an SOS remedy that helps heal your skin in a non-aggressive effective way, through the antibacterial anti-inflammatory properties. The most common reason for pimples and outbreaks is excessive bacteria growth on the skin which inflames the pores, causing a blemish on our skin. The honey helps reduce bacteria growth, making the skin heal faster. It's best to leave it on as long as possible, but it is of course honey (yes, it's sticky!) and therefore best used punctually.
My tip: You can use the Daily Boost as a face mask. The natural crystals in the honey provide a nice exfoliation, leaving you with glowy smooth skin as a result."
Do you plan to launch any other products to extend the line?
Viola: "Yes! So many product ideas! But I'll keep them secret for now…"
Is there a particular kind of product that you would really like to create/make, but haven't been able to yet?
Viola: "There are so many ideas I have for future products because it's such a versatile ingredient. Something for brides is on my mental roadmap for sure. Every one of my friends got a huge pimple or cold sore or flu or skin breakout in the days leading up to her big day, because of the stress. Having gotten married myself not long ago, I can attest to that!
But for now, everything revolves around educating our community on the benefits of manuka, our core mission, and increasing the awareness of its amazing benefits."
How did you come up with the name of the brand, Mahoni?
Viola: "Mahoni is a fictional word that plays on the words "manuka" and "honey"."
What are some of the things that you take into consideration when creating new products?
Viola: "What we love about manuka honey is the unique intersection of it being natural AND highly effective. The benefits of manuka honey are rooted in science. Any future product must be effective, it must work, and be easy to use."
What can you advise consumers who want to make the most of their Mahoni products?
Viola: "You can use the Daily Boost every day, do something good for yourself, your health and wellbeing. It's full of antioxidants and natural. It's also an amazing ingredient for your beauty rituals. Very versatile and a true allrounder!"
Thank you Viola for all this valuable information! Discover the Mahoni products in detail here.