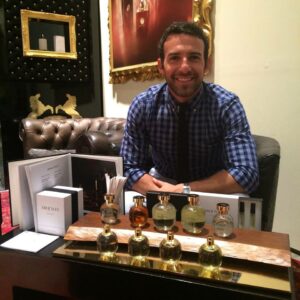 We had a chance to catch up with Carlos Huber at the Pitti Fragranze show in Florence this September and not only discover The Architects Club, Carlos's latest scent, but a little bit more about the man behind the brand. Arquiste is a fragrance collection that transports the wearer to evocative moments in history and with The Architects Club we are taken right to cocktail hour in Mayfair in the 1930's as a young group of architects enjoy a frosty cocktail before heading out into the London evening. We think one of those present just may be Carlos himself!
Learn more about the man behind ARQUISTE here in the latest Etiket Questionnaire!
A good day starts with…  some good lovin' ;-)!
I feel great when I…  exercise.
I never leave the house without… a spritz of fragrance!

The next guilty pleasure purchase is… coffee table books.
The place I always come back to is…  Mexico.
My personal style can be described as… classic with a twist.

The scent I most identify with is… nowadays it's a crisp Gin and Tonic. One of the inspiring facets of a new fragrance, The Architects Club.

When I travel, I always make sure that I… buy a city guide to find my way around.
When I want to relax, I need… cuddling.
When I have a bad day I always… go for a run.
I find inspiration in… history.
My go-to gift is… perfume!
I would never want to miss out on… spending time with my loved ones.

In my fridge, I always have… hot sauce. 
On my night table I keep…  a book, a candle and a big bottle of light cologne for the linens.

My perfect weekend is… discovering a new city.
My most inspiring travel moment was when… I visited Japan – it superseded my expectations. 
The inspiration behind ARQUISTE is/are… to transport you to an evocative place and time. 

If I had to lose one of my five senses it would be… How horrible! I don't want to say, I'm very superstitious with things like that!

The one question I want to be asked in interviews is… "What takes your breathe away?" – Art, architecture and music.