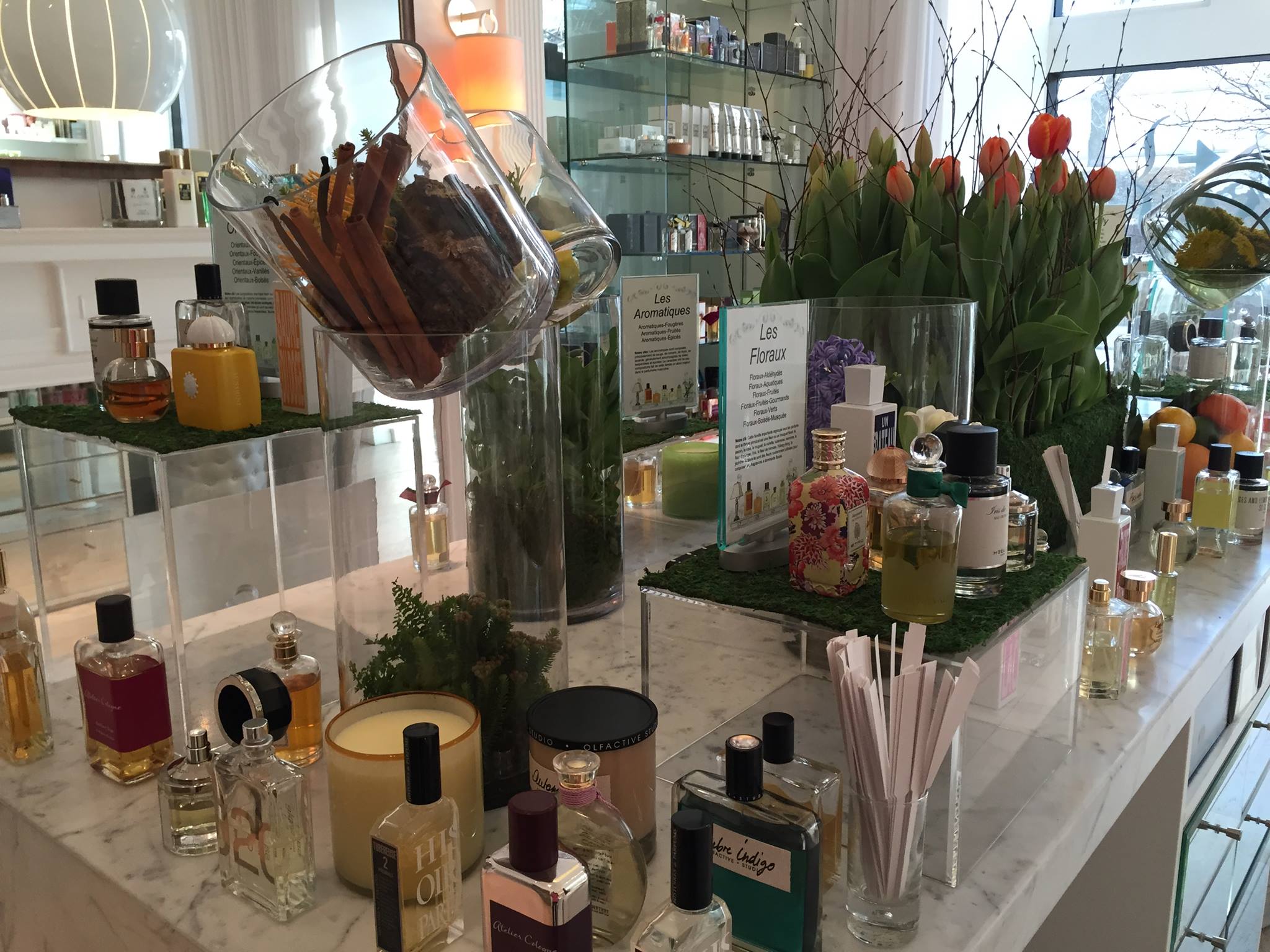 Why a Spring Scents Open House? Aren't we open to the public all of the time?
That was something one of the first customers to drop in yesterday asked. And he had a very valid point. We are always open to the public of course – we are a retail store after all!
The idea was to encourage those who have never been to our store to drop in and experience niche perfume – no pressure to shop – not that there ever is at Etiket, and a chance to wander through the magic of fragrance and discover something that may never have been discovered before.
We set the main table in the store with the seven olfactive families: Floral, Citrus, Leather, Woody, Oriental, Chypre, Aromatic and then placed the fragrances we carry accordingly. I have to say it was a stunning display thanks to the help of Christine and David from Westmount Florists who took an idea and turned it into reality. Very similar to what a creator or nose does when they create a fragrance.
It was wonderful to watch as new and regular customers discovered the different families, new brands that we have and some special editions. We had samples of the fabulous new Rose Privée from l'Artisan Parfumeur (and I am not a rose fan) and Ostara and Al Sawira from Penhaligon's – all added to the mix to see the reaction – Rose Privée the clear winner. We also saw a few that were favourites from everyone that day – the newest release from Atelier Cologne – Pomélo Paradiso, Heeley's Hippie Rose and Sel Marin, Sunshine, the latest from Amouage, The Architects Club from Arquiste, and what was a surprise to me, Tubéreuse 2 from Histoires de Parfums. I also fell in love with Etro's Patchouly all over again. I stopped wearing this scent a few years ago even though I had worn it for 20 years, and as soon as I sprayed it for someone I knew it was time to go back to it. The magic of fragrance and what it can do when we take the time to linger and smell and enjoy.
We also had set up the fireplace mantle with new brands we will be bringing in: Floris from London, Le Galion from Paris, and Tauer Perfumes from Switzerland. We will actually have Jeffrey Dames, the North American representative, for Andy Tauer Perfumes in the store on Saturday, June 13th with the whole collection. Don't miss that opportunity to experience what are truly "fragrant sculptures" masking as perfumes.
We were happy to give samples of anything anyone wanted so they could test and try their favourites on their own skin. How else do you truly know if you love a scent without trying it on yourself? We all came away with a renewed love for what we do and the beauty that is fragrance.
The official open house may be over, but we do hope you will drop in anytime for a guided tour of what we have to offer. We may just be able to surprise you!
Simon Tooley
Owner