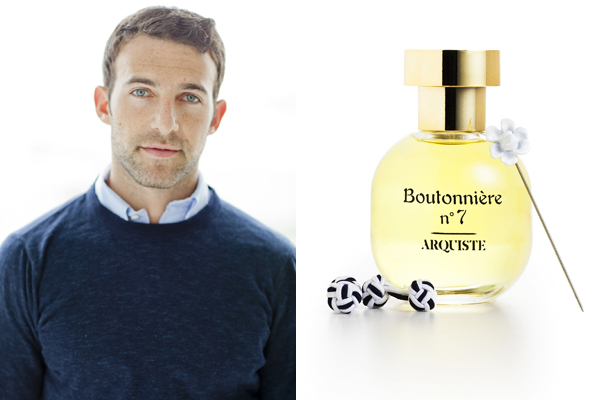 Launched in 2011, ARQUISTE Parfumeur is one of the newest "concept niche lines that sets itself apart from the rest by assigning history, meaning and emotion to scent. The name itself is a combination of words that define this collection's overall concept; Architecture/Arquitectura, History, Art/Artiste and Archive. 
Carlos Huber is the man behind these beautiful and complex creations. The Mexico City-born architect and historic preservationist collaborated with Noses, Rodrigo Flores-Roux and Yann Vasnier to "capture time in a bottle", seven bottles to be precise. The collection includes: L'Etrog, Flor Y Canto, Fleur de Louis, Infanta en Flor, Anima Dulcis, Aleksandr and the newest fragrance, Boutonnière no.7 –  a 2013 "Indie FiFi Award" nominee.
Interestingly, it was earlier at the 2011 FiFi Awards gala that the idea of Boutonnière no.7 was born… from an olfactive experience Carlos remembers from that evening:
"For a black-tie gala night last year, perfumer Rodrigo Flores-Roux bought gardenia boutonnieres for myself, Yann Vasnier, evaluator Sophie Bensamou and three other friends – us men wore them on our tuxedo lapels and the women in their hair. It was an exciting, happy night and there was much celebrating; lots of laughing and dancing. Towards the end, I noticed my gardenia boutonniere was crushed from all the hugging…its bright white gave out an extremely crisp scent that contrasted in its freshness with the heady, damp and smoke-filled atmosphere. It was floral of course, but in that context, its greenness seemed to me extremely masculine. If there is one scent that connects me to all the excitement of 2011 (the launch year for Arquiste) it is definitely the scent of that night out, and the uplifting crispness of that boutonniere."
The Gardenia is the flower with the most feminine of connotations and yet, Boutonniere no.7  is a masculine rendition and the idea behind Boutonniere no.7 then evolved to create a fragrance for a sketch or impressionistic scene: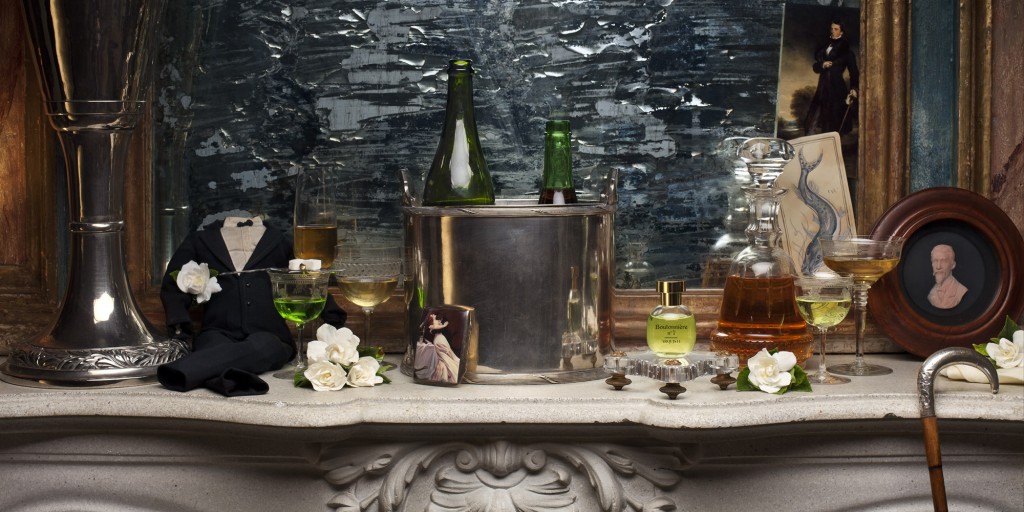 May 1899, Foyer of the Opéra-Comique, Paris
During the Opera's intermission, a group of seven young men gather at the Grand Foyer in search of new flirtations. Women of all sorts are lured in by the crisp, green scent of the men's gardenia boutonnieres, enlivened with the bergamot and lavender colognes they wear. As they draw closer, the "Opera Flower" exudes its elegant masculinity, the last breath of a bloom sacrificed on a black-tie lapel.
Perfumer Rodrigo Flores-Roux was commissioned to make this scene come to life. Was it possible to create a gardenia perfume suitable for men? Is it a scent that a man accustomed to fresh, soapy clean colognes would find appealing? For a woman in love with white florals and green perfumes, would Boutonniere no.7 be an easy fragrance to appreciate?
There are many elements of Boutonnière no.7 that may draw you to it. The contrasts of a modern floral, the cool dark earthiness of vetiver played against fleshy white petals and all the notes working together to create a polished presentation. After all, the fragrance you choose reflects your own story.
Fragrant Facts:
A man would select a fresh boutonnière in much the same way he would wear a freshly laundered shirt or a pair of polished shoes. Its glory lay in its fragility; it was picked, worn in the buttonhole and allowed to die.

When women danced or embraced their partners, the perfume of the boutonnière was meant to surprise and amuse them.

 Flowers all had a specific time and place for use; for example, the Gardenia became known as the "Opera Flower" for its use in black-tie attire.