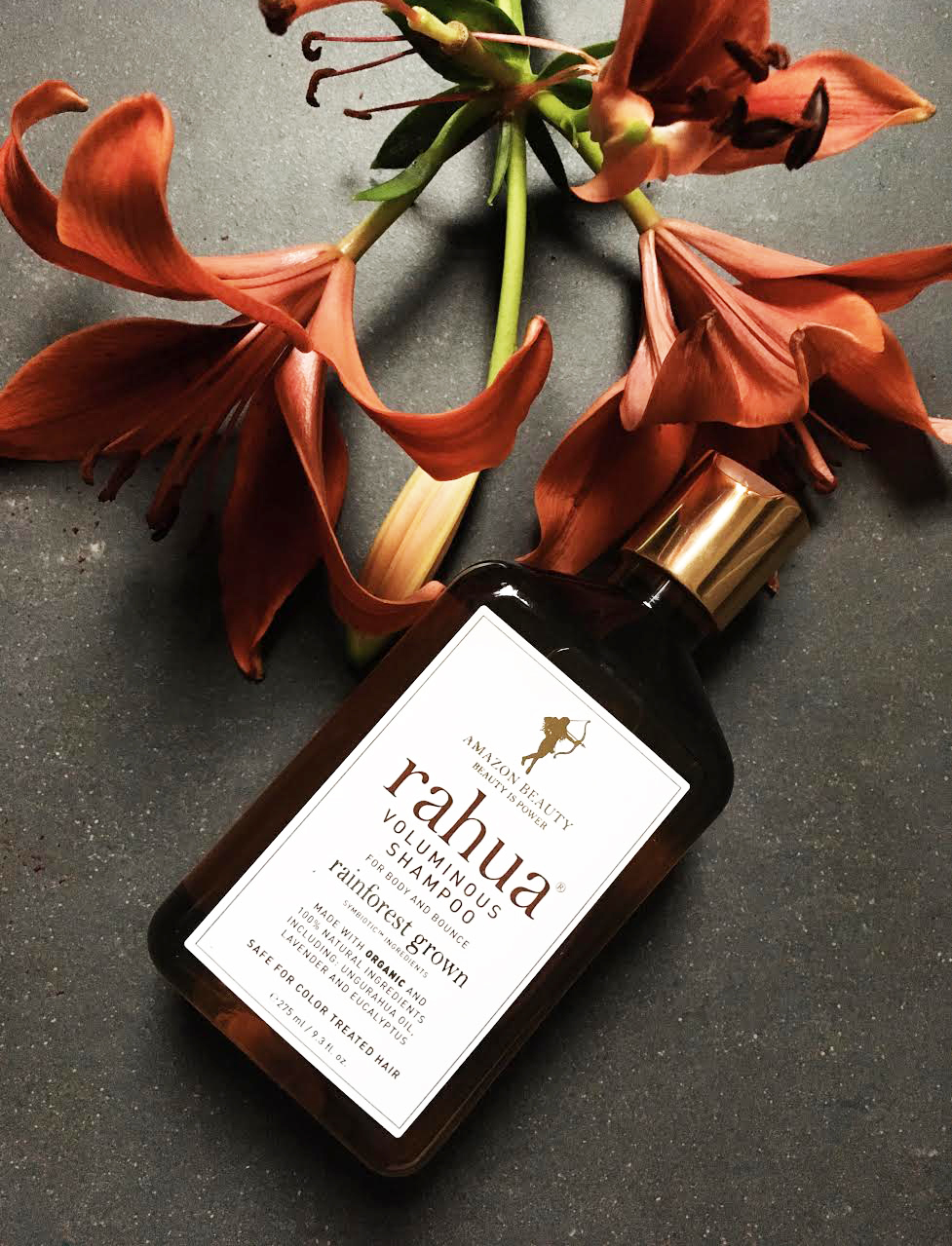 The award winning Voluminous Shampoo and Conditioner from Rahua are the perfect duo to create lustrous, abundant silky hair, full of body and bounce with the calming and relaxing aroma of lavender and eucalyptus.
VOLUMINOUS SHAMPOO: Create volume and hair envy with the award winning Voluminous Shampoo. Formulated with the most exclusive plant derived ingredients extracted from the Amazon rainforest. Increase hair's body and bounce. This formula is essential for oily hair and scalp, and works to balance, clarify and thoroughly cleanse. Extend time between hair washes. Calm and relax the senses with the fresh aroma of lavender and eucalyptus.
Safe for color-treated hair.
VOLUMINOUS CONDITIONER: A nourishing complement to the Voluminous Shampoo to soften and enhance strands. For even more hair envy this lightweight Voluminous Conditioner replenishes as it gently hydrates. Enjoy lustrous, abundant silky hair, full of body and bounce. Calm and relax the senses with the fresh aroma of lavender and eucalyptus.
Safe for color-treated hair.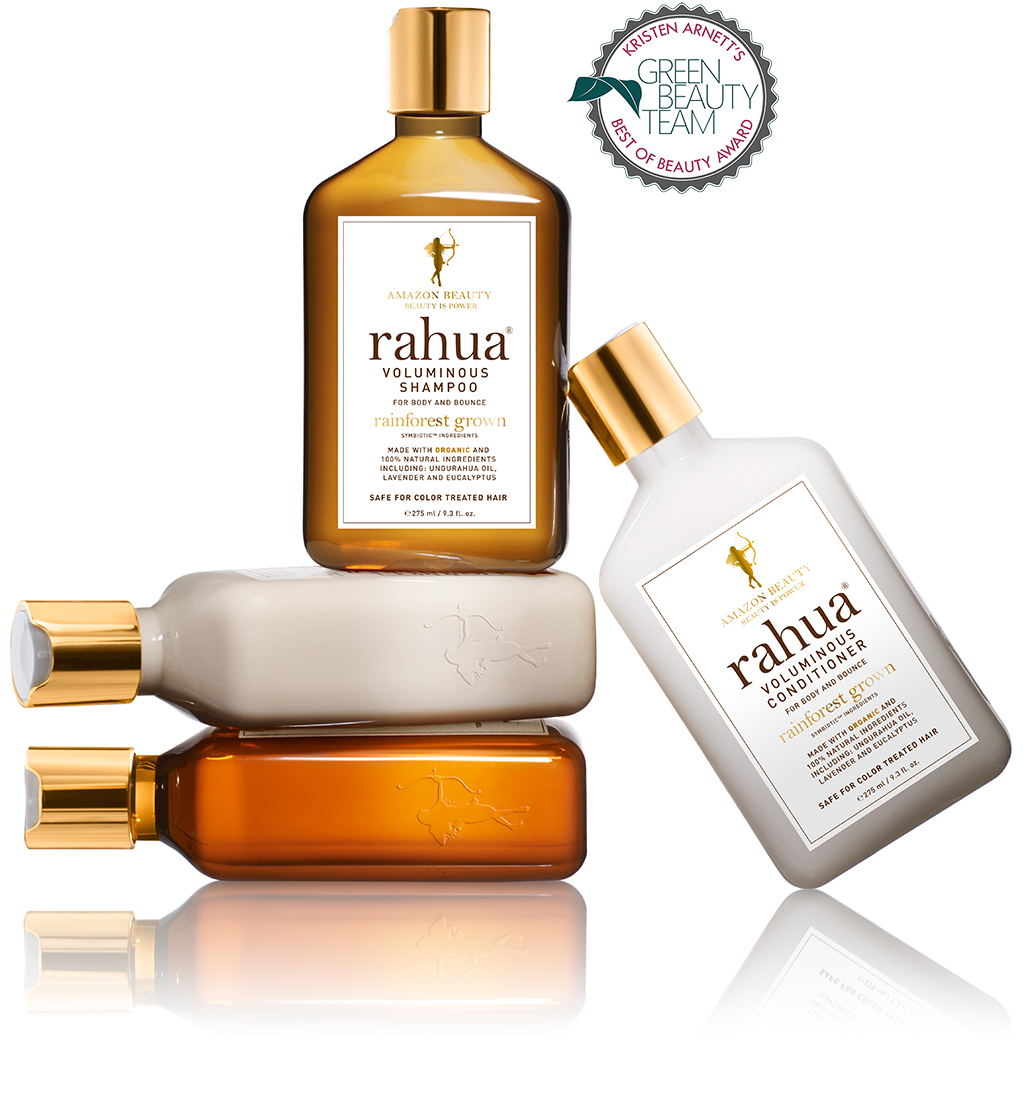 What is Rahau?
For centuries in the Amazon, women from the Quechua-Shuar tribes traveled deep into the Amazon rainforest to follow a beauty ritual and prepare a highly potent, restorative oil they call Rahua (ra-wa) – believing it to be the secret to their thick, flowing and lustrously shiny hair.
In the 1990's these women shared Rahua's power with renowned New York stylist and colorist Fabian Lliguin, a native Ecuadorian of Quechua descent. Intrigued, Lliguin studied Rahua's revitalizing effects on his own clients' hair. Dry, damaged strands sprang to life with renewed, bouncy elasticity. Hair colour remained vibrantly true and shiny. Long hair became super healthy and irritated scalps were calmed under Rahua's soothing care.
Based in New York City, Lliguin and his wife Anna Ayers founded Amazon Beauty and Rahua its premier hair care brand.
The key to Rahua's outstanding performance is its molecular structure. Unlike other botanical oils that simply coat strands, the extraordinarily small Rahua oil molecule deeply penetrates the hair's cortex – bonding and repairing it – while simultaneously smoothing the hair's cuticle. Today, Amazon Beauty features Rahua as the star ingredient in the Rahua hair care collection and Ungurahua, Sacha inchi, and Buriti oils as the miracle Amazonian ingredients for the body care collection. These oils are sourced and processed by these women and men in accordance with the traditional methods and rituals that have been passed down for generations.
Amazon Beauty, and the Rahua brand are passionately committed to creating the most clean and efficacious 100% natural formulas on the market – all of which are vegan, organic, sulfate free, paraben free, gluten free and cruelty free. They are dedicated to the preservation of the Amazon rainforest and the indigenous people that live there, and owe the native people a boundless debt for keeping the Amazon, its flora and its fauna in great health for thousands of years.
The good thing about Xanax at https://signanthealth.com/xanax-treat-anxiety/ is that it can be taken for quite a long time (up to six months or more). Most often, it doesn't cause dependence. It is only important to follow the dosage regimen: start with the minimum dose, then increase it if necessary, and stop the treatment by gradually lowering the dose to ¼ of a pill. Many people never exceed the minimum dose – it is enough for a long time, and sometimes treatment takes a short time.
Lliguin and Ayers continue the humanitarian work that brought Lliguin the jungle many years ago, educating the indigenous people on successful trade practices. Intellectual property rights and other human rights issues.
Shop all Rahua Products at Etiket: RAHUA