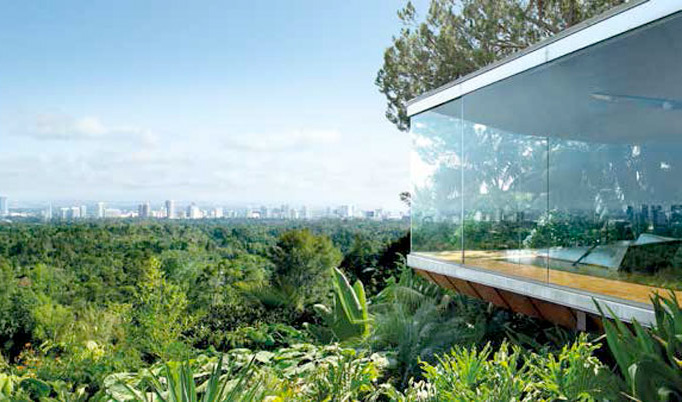 Olfactive Studio Panorama sparked a lot of interest for me because of the unusual wasabi note that this fragrance is built upon. I don't think I can think of any other fragrance that has wasabi notes besides something I smelled years ago from Bath & Body Works. Not sure that really counts anyway. After doing a bit of research, I did find a fragrance from NEST – Wasabi Pear Body & Soul Spray. Does that count? Still not sure. So, here I am about to sniff a fragrance with a note that I have only experienced with my sushi… and all I can think about is that sharp taste and dry fire in my nose when I have added a bit too much wasabi to my soy sauce. Not my best attempt at clearing my mind before sniffing. So, instead of thinking of wasabi, I focused my attention on the photograph that inspired this 7th fragrance from Olfactive Studio – a gorgeous photo of the Sheats-Goldstein residence in Beverley Crest, Los Angeles. Fascinating architectural design of a cave-like dwelling that opens to embrace quite the panoramic view of nature and city.
I closed my eyes with this photograph in mind and took a sniff. If edge had a smell, this would be it! Citrus, spice and sweet vanilla create a warm and cold effect. The spice from the wasabi and cardamom is not as strong as I would have thought. As Panorama begins to settle on my skin, I can smell green grass and a very subtle floral from the violet leaf mixed with the creaminess of fig. This leads nicely into the finish – a musk that is powdery, yet still spicy. This is that "edgy smell" I was talking about. Very unique, soft and sexy. Suitable for a man or a woman, but then again, I do believe that all fragrances are unisex.
I am so impressed with the composition and complexity of Olfactive Studio Panorama! It's been a while since I have been so intrigued by a scent. Could this be my new scent for spring? I think so. As much as I love my Escentric Molecules Molecule 01, I think its time for something new.
Natalie Cola,
The Etiket Insider Beauty Editor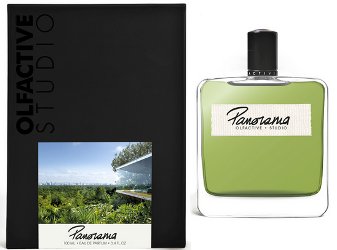 Top Notes: Bergamot and lemon
Middle Notes: Wasabi, violet leaf, fig leaf, galbanum, cardamom and grass
Base Notes: Musk, vanilla, tonka bean, myrrh, balsam fir, patchouli, labdanum
Availability: In-store and online.
If you like Olfactive Studio Panorama EDP, you may also like: Penhaligon's BAYOLEA or HEELEY Vetiver Veritas.

Discover these fragrances and many more! At Etiket we offers samples of all fragrances that we carry including complimentary shipping to anywhere in Canada!
CLICK HERE for more details about our Fragrance Sample Program!