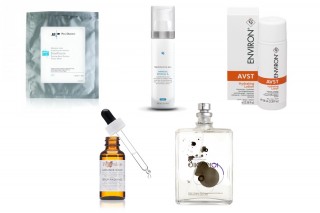 I have changed my beauty routine numerous times in my life, but there are a few products that remain constant – My Top 5 Most Loved Beauty Essentials. These are the products that I use daily or weekly and simply could not do without! You know what they say, "Why change something if it works?".
VivierSkin Radiance Serum: I use this serum daily and it continues to improve my skin tone. Now that I am in my 30's, I have started to notice some sun damage beginning to appear on my face. To treat the early signs of aging, this non-Hydroquinone vitamin c serum to help brighten my skin and treat those pesky age spots. I have been using Radiance Serum for 6 months now and I am so happy with the results so far!
Environ Hydrating Lotion: What can I say about this product? It has changed my life! I have suffered from Keratosis Pilaris as long as I can remember. A common, but harmless skin condition that causes patches of rough skin, in particular tiny red bumps on the upper arms, legs, cheeks and buttocks. It's caused by a buildup of keratin, the protein that protects skin from infection. The buildup then forms a plug that blocks the opening of the hair follicles, causing tiny pimple-like bumps. To treat it, I apply Environ's Hydrating Lotion after showering which exfoliates and hydrates the skin. What I love about this lotion is that it smells fresh and is so easy to apply because of it's almost liquid consistency. Oh, and it works! My skin is so much smoother thanks to this discovery!
Pro-Derm StemYouth Tensor Anti-Fatigue Mask: My go-to mask for immediate lift and glow! When I have a special event or special date, this is the mask I trust over all others! It's easy to apply and only takes 15 minutes for miraculous results. No need to add any cream after, the residual serum left on the face offers more than enough hydration. Simply massage it into the skin and continue with your regular makeup routine. My skin always looks refreshed, bright, tight and glowing. Works like a charm every time!
Levitra is a drug for men at https://signanthealth.com/levitra-ed-treatment/ designed to treat erectile dysfunction. The action of Levitra is similar to the one of Viagra. Levitra cannot be used for women. The main active component of Levitra is Vardenafil, which provides the effect of the drug on male strength. In my opinion, this is a good and effective drug! I'm very satisfied with the result!
SkinCeuticals Metacell Renewall B3: I started using Metacell Renewal B3 when it launched last year. This daily corrective moisturizer is ultra light, making it perfect for my oily skin. It visibly corrects the appearance of early photoaging to re-clarify skin, reduce wrinkles, re-tighten surface elasticity, and even skin tone. I am almost done my first bottle and plan to make this my steady day/night cream.
Escentric Molecules Molecule 01: I wear this fragrance EVERYDAY. I wear it alone and I wear it layered under another scent, as it intensifies and brings out another dimension to the notes. I don't think anyone can really explain what it is about this scent that makes it magic, but perhaps it's the almost pheromonic effect it has on those who smell it on the skin . I get compliments everywhere I go!
Natalie Cola,
The Etiket Insider Beauty Editor