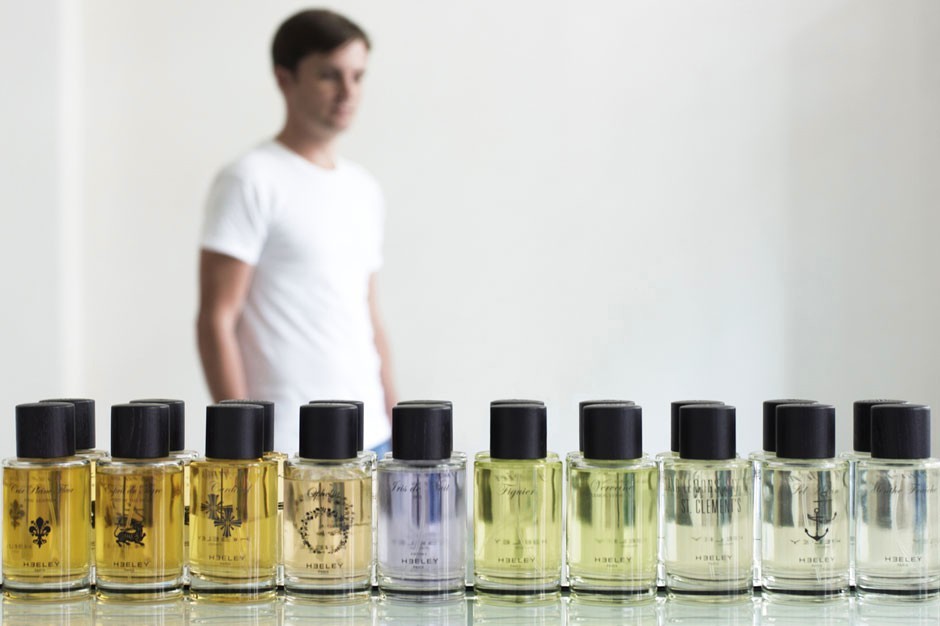 Born in Yorkshire, England, James Heeley studied Philosophy and Aesthetics at King's College – London University. He was fascinated with nature and floral design, so it was only natural that he would be just as fascinated by the world of perfumery.
"Excellence lies in details" – James Heeley
This is James' motto, and has been the foundation in creating one of the most unique and independent luxury perfume houses in Europe – HEELEY Parfums. From conception, to even the tiniest details of creating the fragrance itself, to the bottling and thoughtful packaging, James Heeley is one of the very few owner, founder and perfumers in the business of modern classic perfumery. HEELEY Parfums consists of contemporary scents that make up a modern collection of fragrances made in the true art of traditional French perfumery. In order to get a true feeling for the brand, we sent James the Etiket Questionnaire.
Meet the man behind HEELEY Parfums...
A good day starts with…  a cup of tea!

I feel great when I…  take a shower.

I never leave the house without… having checked that I have my keys.

The next guilty pleasure purchase is…  a banana split!

The place I always come back to is… Paris.

My personal style can be described as… contemporary, new romantic.

The scent I most identify with is… Haitian vetiver.

When I travel, I always make sure that I…  have music.

When I want to relax, I need… a malt whisky.

When I have a bad day I always… go boxing!

I find inspiration in… everything.

My go-to gift is… a bottle of champagne.

I would never want to miss out on… a good party.

In my fridge, I always have…  fresh, cold milk.

On my night table I keep…  a good book.

My perfect weekend is…  on a boat somewhere in the Mediterranean.

My most inspiring travel moment was when… I visited Japan for the first time.

The inspiration behind HEELEY Parfums is… elegance.

If I had to lose one of my five senses it would be… touch.

The one question I want to be asked in interviews is…  "Et mes fesses, tu les aimes mes fesses ?" (Le mépris, Godard)
Discover HEELEY Parfums at Etiket!
Discover these fragrances and many more! At Etiket we now offers samples of all fragrances that we carry including complimentary shipping to anywhere in Canada!
CLICK HERE for more details about our Fragrance Sample Program!