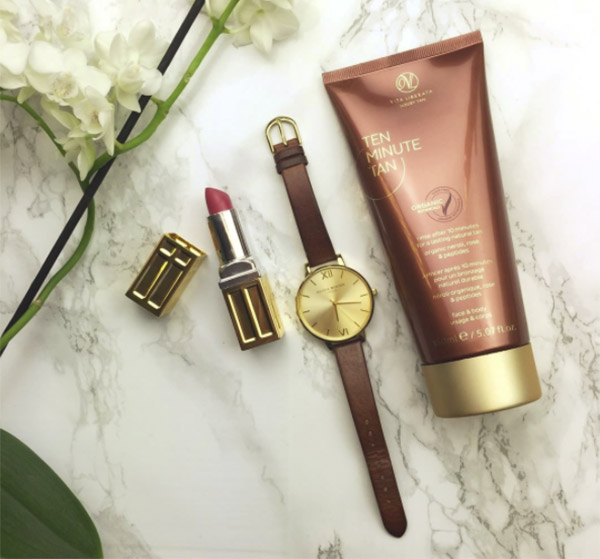 The 10 Minute Tan from Vita Liberata is the fasted way to get a lasting, skin loving, natural tan! 
This fast acting self tan is ready to shower off after just 10 minutes and your natural, medium tan will develop gradually over the next 4-6 hours. This silky lotion gives your skin a lasting bronze, as well as a deeply hydrating body treatment with a full collagen boost. Simply apply generously to your skin like a body moisturizer, then take just 10 minutes to let the lotion absorb and work its magic. Before you know it you are ready to rinse off the lotion in the shower and gently pat dry. Your skin will feel instantly silky smooth, and with clean, product-free skin there's absolutely no fear of transfer, so you can dress immediately. Your natural looking tan will develop gradually over 4-6 hours – so it's perfect to apply in the morning when you need to be glowing by 5pm!
Vita Liberata is simply the best and longest lasting self tanner in the world.
The Vita Liberata luxury self tan and spray tan range is the first completely non-toxic and odourless tanning brand. The ingredients used are of the purest quality and certified organic suitable for all skin types. The Vita Liberata Self Tan experience leaves skin perfectly conditioned and nourished with a Moisture Locking System that ensures skin remains hydrated for up to 72 hours and that your tan fades perfectly and naturally. The result is sexy, soft and supple skin, with natural looking colour that will last for days.
Vita Liberata's most recent product innovation, the pHenomenal 2-3 Week Tan line is recognized as the world's longest lasting self tan, remaining four times longer than regular tans and are the self tan products of choice of celebrities such as Gwyneth Paltrow, Sofia Vergara, Rita Ora and Ellie Goulding.