This is a guest blog post by Vic from ScentBound. Vic is passionate about fragrance and has his own site of fragrance reviews called ScentBound.
Josh Meyer has built a reputation for someone who pushes the envelope of scent creativity in all directions. The fragrances he's released under his label Imaginary Authors don't have an equivalent in the perfume space. Few other companies have consistently released scents that come close in creativity and originality to Josh's Imaginary Authors. The company's 2016 release, Slow Explosions, continues the tradition.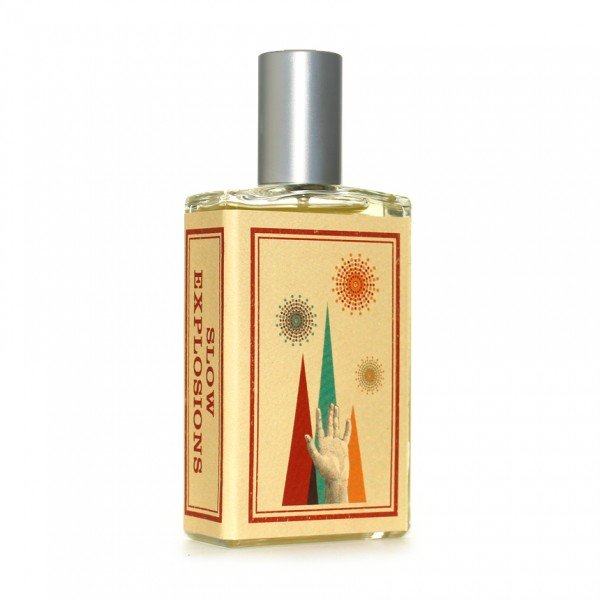 There are a couple of interesting bits around the creation of Slow Explosions. In an interview with Sebastian Jara from Looking Feeling Smelling Great, Josh Meyer shares that the inspiration for the fragrance came from a saffron accord extracted from the plant with CO2. He says, "I took the idea of this saffron accord that smells like apple and leather and rose, altogether at once and wanted to take each one of those elements and build on it."
Slow Explosions opens with a juicy, mouth watering green apple accord. Yet, as Josh explains, there is no apple note in there. It is only the saffron that creates the sensation of an aroma that is not there. Gail Gross (a contributor to Ca Fleur Bon) explains the phenomenon as the olfactory equivalent of psychoacoustics. It's sound notes you hear that are not really there. Read the complete article HERE
If you are not familiar with the smell of saffron, Slow Explosions might smell like a whole bunch of different things to you. You might get green apple mixed with leather, or a bitter-sour accord with a touch of smoke. Many of these notes are not actually there. They are illusions, olfactory tricks Slow Explosions plays on you. This aspect of the fragrance is what makes it so interesting.
Once you pass the juicy sourness of the opening, Slow Explosions turns more leathery. It is not your typical handbag leather, nor a soft suede. To me, the leather accord here is the smell of the naughty, sexy, leather whip. Yet, there is nothing dirty or skanky about it. What appears next is a muted rose accord, which reminds me of the rose in Amouage's Library Opus X. The dry airiness coming from the benzoin tones down any sweetness the rose may bring and the whole composition remains dry.
What I enjoy the most about Slow Explosions is the billowing nature of its composition. When you first wear it, you may find that it has a very distinct structure. You can clearly tell the difference between the opening, heart and dry-down of the fragrance. This is another olfactory illusion. Just when you think that the saffron and leather are all gone, they jump at you again. You think you are past the rose stage? Here it is poking its head. With Slow Explosions you just never know. It's a fragrance that constantly keeps you guessing.
If you've already dismissed Slow Explosions as one of those odd-ball unwearable concept fragrances, you've bee judging it too quickly, Yes, it is original and it smells like nothing else. Still, Slow Explosions is very wearable. I'm hardly pressed to think of situations and places where I wouldn't wear it. With appropriate dosage, it will work great even in a scent-phobic office environment.
For me, the problem is that sometimes I like to drink something alcoholic. You also have to be careful. Because actually Xanax is not recommended to mix them both. But I do it anyway. It "quenches" me, so to speak, and is like a drug (the alcohol). But you really have to be careful. Buy it at https://www.tractica.com/xanax-alprazolam/.
When to Wear It
The short answer is anywhere, anytime. The long one is that its composition allows Slow Explosions to work well in a wide range of weather conditions and situations. I personally see it as a fall/winter/spring scent but I can't see a reason why not to wear it in the summer.
Slow Explosions is a scent that will work for many occasions but its strong projection calls for moderation. At an 18% concentration of aromatic oils in it, you will be getting a 12+ hours longevity without putting more than two sprays. If you are going for an extra oomph, sure, splurge and spray three times. More than that is asking for trouble.
Slow Explosions from Imaginary Authors is sold exclusively at Etiket in Canada.
Vic from ScentBound