Whenever there is a new product from SkinCeuticals that is launched, we cannot wait to get our hands on it. The H.A. Intensifier is no different! Although we do hear a lot about skin care products with H.A. or hyaluronic acid, what is important is the delivery system to ensure that the key ingredient will be absorbed in the skin to work with our own natural hyaluronic acid.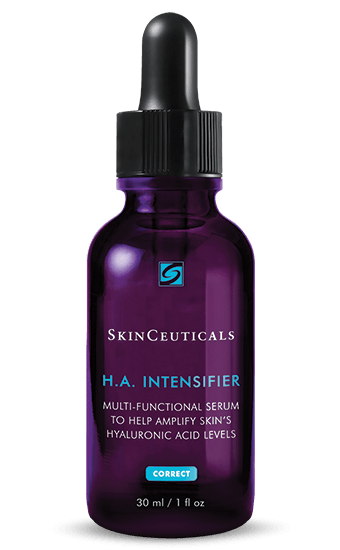 H.A. Intensifier is a multi-beneficial corrective serum proven to amplify skin's hyaluronic acid levels. This unique formulation contains a high concentration of pure hyaluronic acid, proxylane™, and botanical extracts of licorice root and purple rice to support skin's hyaluronic acid levels and deliver surface hydration, helping improve the visible appearance of firmness, smoothness, and facial plumpness. This hyaluronic acid serum may be used as part of a home skincare regimen after dermal fillers; always consult with your physician for individual at-home advice.
What does the H.A. Intensifier do?
Amplifies skin's hyaluronic acid levels by 30%
Reduces the look of crow's feet, nasolabial folds (parenthesis around the mouth or laugh lines), and marionette lines (lines from the corners of the mouth down to chin) for smoother, firmer skin
Delivers long lasting hydration to visibly improve skin's texture
Unique serum-gel texture format creates a smooth canvas on the skin
It is also paraben and dye-free, ideal for all skin types and may be used as home care after dermal fillers.
Key Ingredients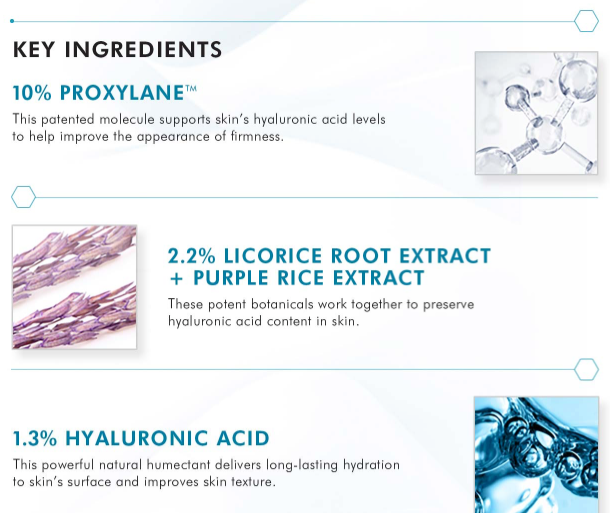 While hyaluronic acid is a powerful hydrator, the size of the hyaluronic acid molecules are too large for optimal skin absorption. H.A. Intensifier uniquely combines surface-hydrating hyaluronic acid with 10% proxylane™ and an optimal concentration of licorice and purple rice extracts to support skin's hyaluronic acid levels.
Shop SkinCeuticals H.A. Intensifier here