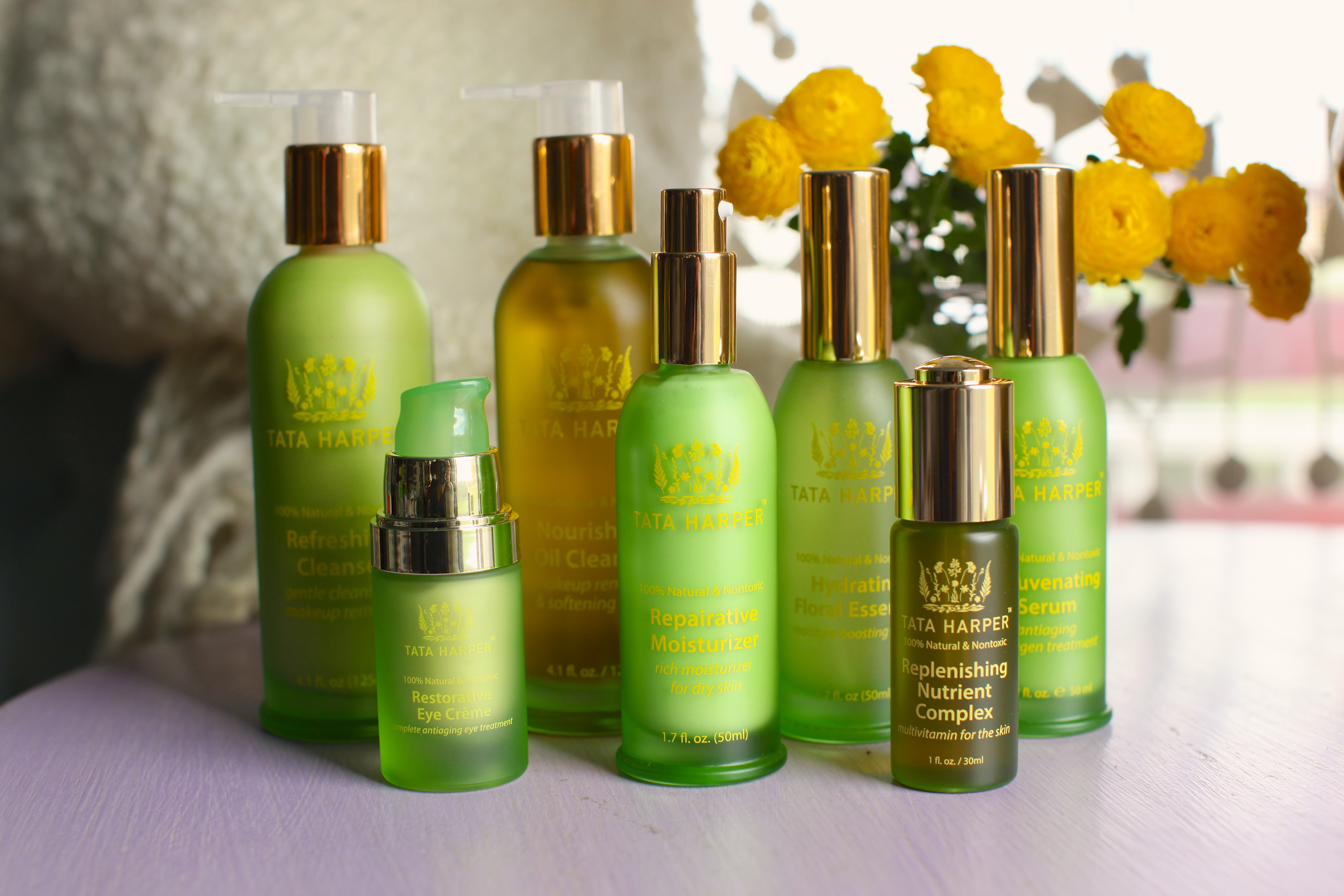 This week I had the privilege of experiencing the new 100% Natural Tata Harper Red Carpet Facial at Etiket! The perks to working for Etiket are obvious, but facials are really quite the treat! So now that I am a regular facial gal (not sure why I waited so long, shame on me!), when a new treatment is available at Etiket, I am one of the first in line to try it! I don't particularly have a preference for natural and organic brands, but I have really grown to love Tata Harper Skin Care. I use the Fortifying Body Lotion daily and I absolutely adore it! TIP: If you add a drop of body oil to this lotion, your skin will glow!
Now for the facial… It's interesting to note that this facial consists of four exclusive Tata Harper mask treatments and relaxing  arm, shoulder and scalp massages. Could you ask for anything more? Not really. This treatment is 90 minutes and provides blissful relaxation. So give yourself some time to enjoy and take it easy afterwards. Believe me, your mind will become so relaxed that you will forget all the stresses of the day, and why not let it last a little bit right?
The Red Carpet Facial commences with a beautiful aromatherapy treatment. Paule (Head Esthetician at Etiket) selected the Tata Harper Aromatic Bedtime Treatment  to soothe me into deep relaxation. She rubbed a few drops of this floral-citrus cocktail of essential oils in the palm of her hands and then held them above my face asking me to take three deep breaths in. By the third breath, I could feel all my worries melting away. She then proceeded to cleanse my skin with Tata Harper Regenerating Cleanser. From there she analyzed my skin with a magnified light and began extractions to remove any blemishes, whiteheads and blackheads that had come to the surface during the cleansing process. Good riddance clogged pores!
After Paule had cleared my skin of any trapped debris, she began the first of four exclusive Tata Harper Masks, known as the "Quadruple Mask System":
Mask #1: Clarifying Detox Mask (green)
This mask is green in colour and instantly brightens the face, clarifies and tones the skin, while boosting cell turnover for improved radiance. The mask contains Yogurt Powder  with alpha hydroxy acid to promote a healthy glow and help soften the skin, Bladderwrack Extract to help purify the skin from environmental aggressors and Sea Kelp Extract which helps to boost the skin's natural melanin elimination process while purifying with chlorophyll content. This mask is left on the skin for 8-10 minutes and while I was waiting, I enjoyed a lovely scalp massage.
Mask #2: Instant Lift Firming Mask (white)
This mask is white in colour and delivers instant lifting, tightening and contouring effects. It boosts the skin's strength and resilience for a visibly firmer look. The mask contains Natural Bipolymers that instantly retract to visually tighten the skin, Gotu Kola Extract firms, fortifies and strengthens while reducing visible veins and finally, Calcium Extract helps to boost natural elastin in the skin to tighten and promote elasticity. This mask is accompanied by the Instant Recovery Eye Tea treatment to reduce puffiness and a hand and arm massage.
Mask #3: Raw Honey Crystal Mask
Here comes the sticky part! For the next mask, Paule massaged my face, neck and décolleté with Tata Harper's exclusive Raw Honey Crystal Mask. This raw clover honey is harvested on Tata Harper's farm in Vermont and delivers therapeutic antibacterial benefits to help purify, while balancing  the skin's natural pH level. It moisturizes the skin and delivers concentrated nutrients and minerals, for ultra soft, nourished and glowing skin. While this mask sounds messy, rest assured, I was in very capable hands. Paule was extra careful to keep the honey on my face and not in my hair.
Mask #4: Intense Hydration Therapy Mask (Pink)
Pretty in Pink! This mask delivers a powerful dose of moisture, boosting the skin's elasticity and natural hydration. This mask contains Silver Ear, a mushroom that holds one million times its weight in water, enhancing the skin's ability to hold hydration. Buttermilk contains lactic acid which richly hydrated, softens and soothes the skin. Finally, Aloe helps to restore the skin's pH balance while deeply moisturizing and oxygenating. Another Instant Recovery Eye Tea treatment is put in place while the mask settles on the skin for 8-10 minutes.
In between each mask, the face is sprayed with Tata Harper Boosted Serum Activator and the final mask is finished with the application of Tata Harper Rejuvenating Serum,  Restorative Eye Crème and an appropriate moisturizer – in my case, because it is quite warm out and I have combination skin, Tata Harper Rebuilding Moisturizer was the perfect choice. If you are heading outdoors in the sun afterwards, a sunscreen is applied as well.
I really enjoyed this calming facial. It truly felt like a Red Carpet treatment! If you are new to the Tata Harper skin care line, then this is a great way to discover some of the products. If you are an avid Tata Harper skin care user, then you already know how fabulous this treatment is! Next on my list of treatments to try is the Tata Harper Red Carpet Body Treatment. Thank you Paule!
Natalie Cola,
The Etiket Insider Beauty Editor
Click Here For A Full List OF All Natural and Organic Treatments at Etiket