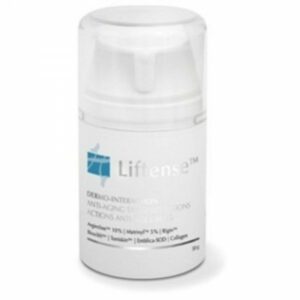 "After using the Pro-Derm Gentle Cleanser for 6 month and loving it, I had to try more of the line! Pro-Derm Liftense is an enriched moisturizer (peptides and antioxidants) that can be used day and night. It leaves a pleasantly smooth finish and makes for a great makeup base! After 3 months of use, my skin and neck appeared softer and more firm that usual. What I really like about this moisturizer is that it is fragrance free, so there is  no perfume scent that would usually irritate my skin. I especially  like to use Liftense during the colder months when my skin is very dry. Next on my list to try is Pro-Derm Regenerating Cream!"
– Natalie Cola, The Etiket Insider
What it is: An anti-wrinkle, skin restoration, protective, moisturizing and lifting effect cream for face, eye contour and neck. For normal to dry skin.
What it does: Liftense is a luxurious and unique formulation with one of the highest peptide concentrations available. The peptide complex is enriched with first grade ingredients especially selected for their anti-aging actions: Anti-wrinkle, skin restoration, protective, moisturizing and lifting effect. Liftense™ optimizes the results of medical rejuvenation treatments.
How to use it: After cleansing with Pro-Derm Gentle Cleanser, apply Liftense morning and night, allowing to penetrate. If a protective cream with SPF factor is needed, Pro-Derm sunscreens are compatible.
Key Ingredients: Peptides -Matrixyl3000, Rigin, Argireline, Tighteners – Bioxilift, Toniskin, Hyaluronic Acid, Antioxidants – Emblica SOD (Superoxide Dismutase), Pure Vitamin E. Natural Moisturizers – Marine Collagen, Shea Butter, Omega. Essential Oils – Rosehip, Rosewood. Contains no mineral oil, perfume, alcohol, petroleum derivatives or parabens.
What else you need to know:
Pro-Derm was founded in Montreal in 1996. Pro-Derm products have been developed in Canada by a team of chemists and a dermatologist. By offering high levels of clinically proven effective ingredients, the Pro-Derm line combines the benefits of both cosmetic and pharmaceutical products.
Rich in high quality ingredients, the Pro-Derm line combines innovative agents, natural botanical extracts and pure essential oils.
Pro-Derm products have been designed to be used jointly, hence maximizing the results.
The unique and natural vegetal base of Pro-Derm products preserves the integrity of the skin's natural protective layer and hydrates the various skin types appropriately.
All products are free from parabens, alcohols, perfumes, mineral oils, petroleum products, and are not tested on animals. They contain the least possible amount of conservative agents in favour of botanical ingredients with natural bactericidal properties.
Highly recommended by Physicians, Pro-Derm products can be used in conjunction with anti-aging medical interventions such as injections for lines and wrinkles, facial peels, laser treatments and aesthetic surgery.
See the complete range of Pro-Derm here: PRO-DERM