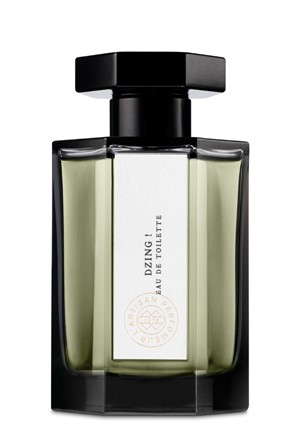 If you have visited the circus as a child, this fragrance is sure to bring back some wonderful memories! Innocent and playful, L'Artisan Parfumeur Dzing! is also very feminine and carnal. The opening notes were a bit off putting for me – pungent, but only at first. The sharpness of leather, wood and ginger are animalic, yet very smooth, not necessarily stinky. Within the first few minutes, Dzing! becomes warm and a sticky sweetness starts to emerge. I can't tell if it's the candy apple or the caramel and toffee that I am smelling in the middle notes, but before I can put my finger on it, I start to smell hints on vanilla and saffron. As Dzing! settles close to the skin, I get occasional soft scented drifts of hay and fresh kettle corn — its exhilarating to the point where it might even make your head spin a little bit, but in a good way. Although L'Artsian Parfumeur claims that this is a fragrance for women, I think it is really quite unisex. The perfect scent for the upcoming fall season!
 L'Artisan Parfumeur Dzing! EDT
Key Notes: Leather, Musk, White Woods, Saffron, Tonka Bean, Caramel, Ginger, Cotton Candy, Toffee, Candy Apple

Perfumer: Olivia Giacobetti
Availability: In-store and online.
Discover these fragrances and many more! At Etiket we offers samples of all fragrances that we carry including complimentary shipping to anywhere in Canada!
CLICK HERE for more details about our Fragrance Sample Program!