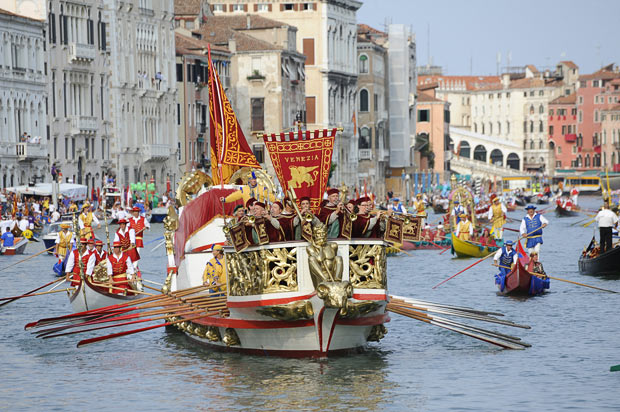 The Bucintoro, the barge of Venice's ruler, the Doge, leads a parade of historical Venetian boats as it sails along the Grand Canal during the Historical Regatta.
Eau d'Italie's Baume du Doge is the sixth fragrance launched in 2008 for the exclusive line dedicated to the Le Sirenuse hotel in Positano, Italy. This delicious Oriental, spicy scent created by Bertrand Duchaufour sends us back in time to the north of Italy, as it is dedicated to Serenissima Repubblica di Venezia (The Most Serene Republic of Venice) and the elected rulers of that time known as "Doge".  Baume du Doge translated to Balm of the Doge is succulent and opens with orange and a mixture of precious spices, which at the time, would be gifts from Africa and Asia, brought by merchants to venice for the reigning aristocracy. Exotic incense note and sweet saffron give the citrus in the top notes a candied effect. Heavy and sweet, but not overbearing, Baume du Dodge settles down with  fresh vetiver and a caramel-like vanilla. This is a complex scent that is perfectly blended. Just the fragrance to get you trough the last days of winter!
Natalie Cola,
The Etiket Insider Beauty Editor
Eau d'Italie Baume du Doge EDT
Top Notes: Orange, Cinnamon, Cardamon
Middle Notes: Frankincense, Saffron, Myrrh
Base Notes: Vetiver, Vanilla, Benzoin
Availability: In-store and online.
If you like Eau d'Italie Baume du Doge EDT, you may also like: Amouage Jubilation Man and Atelier Cologne Santal Carmin.

Discover these fragrances and many more! At Etiket we offer samples of all fragrances that we carry including complimentary shipping to anywhere in Canada!
CLICK HERE for more details about our Fragrance Sample Program!