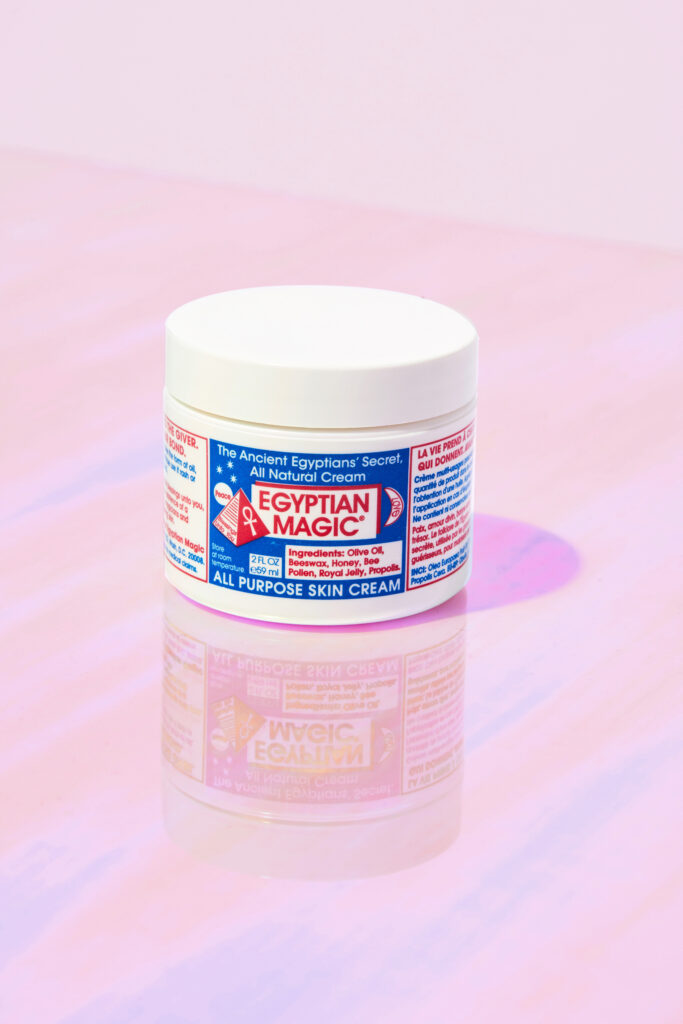 As you may have heard, we just launched Egyptian Magic at Etiket (Yay!). Ever heard of it? This cult-favourite product has been raved about for over 20 years because of its ability to deeply hydrate and repair the skin quickly and with natural ingredients. In fact, this all-purpose balm contains only 6 ingredients: olive oil, honey, bee pollen, bees wax, royal jelly and bee propolis.
Most of us will use this balm as a face and body moisturizer, or as a cure for any skin burns or irritations. However, we've recently discovered that Egyptian Magic serves many other purposes, that's why they advertise it as an all-purpose cream. Do you want to learn how to get the most out of this product? You've come to the right place. Let's discover the 16 different ways to use Egyptian Magic.
1. AMAZING MOISTURIZER
People often start using Egyptian Magic to solve a skin problem such as a rash, a burn or a scar, and then continue using it as a face and body moisturizer Egyptian Magic recommends using it twice a day, as it does wonders for creating soft, smooth skin. It's great addition to the winter skincare routine!
2. HAIR CONDITIONNER
One of the most delightful discoveries is how beneficial Egyptian Magic can be as a moisturizing hair conditioner – either on a regular basis or as a conditioning hot pack. Egyptian Magic's all-natural ingredients will restore luster to your hair, replenish its natural oils, tame frizz and condition split ends.
3. LIP BALM
Egyptian Magic works wonders as a nourishing and repairing lip balm! The natural ingredients deeply nourish your lips and give them new life.
4. AFTER SHAVE
Your skin is sensitive especially after shaving. In many cases you may have scars and/or irritation as a side effect. Use Egyptian Magic as an after-shave for a soothing effect. Egyptian Magic contains no alcohol or chemicals that might cause your skin to dry out.
5. AFTER SUN SOLUTION
Egyptian Magic is often used as an after sun lotion. The cream gives a soothing effect and your sunburned skin may embrace the natural ingredients.
6. VAGINAL MOISTURIZER AND LUBRICANT
Yes. You read correctly. Egyptian Magic states that according to many gynecologists, such as Dr. Uzzi Rees of Beverly Hills, CA, Egyptian Magic works well as a natural vaginal moisturizer and lubricant. Huh!
7. HAND AND CUTICULE CREAM
Egyptian Magic is a great hand and cuticle moisturizer. In fact, many use it to treat their nails and cuticles, as the balm softens rough skin. Rub some Egyptian Magic on your hands and cuticles just before going to sleep to find nourished, soft and revived hands in the morning.
8. MAKEUP REMOVER
Egyptian Magic is also used as a safe, all-natural makeup remover. This balm works wonders as the first step in your double-cleanse routine. Start by massaging the balm into the skin to loosen any makeup or dirt from the day and follow up with a gentle cleanser to make sure everything has been removed. Not only is your makeup gone, your skin is moisturized and ready for bed!
9. EYE CREAM
Struggling with dry skin around your eyes? Dab some Egyptian Magic and let it do its work! Your eye contour will be hydrated in no time!
10. MASSAGE BALM
Egyptian Magic's melting texture is ideal for massages. Warm up the balm between your hands until it transforms into an oil and massage on skin. Just relax, its moisturizing ingredients will soften and nourish your skin.
11. TATTOO AFTERCARE
After getting a tattoo, apply Egyptian Magic to the area to help with moisture, to reduce scabbing and to soothe itching and redness.
12. DIAPER RASH
Egyptian Magic is safe to use on babies and infants. As a non-irritating and petroleum-free formula, it is found to effectively deal with diaper rash, while moisturizing and soothing the baby's sensitive skin. However, as with any skin care product, please consult your pediatrician before use and do not apply if your baby may have an allergy to bee products.
13. DURING AND AFTER PREGNANCY
Egyptian Magic claims that their balm helps with stretch marks and cracked nipples. Apply it on breasts, belly and thighs during pregnancy to prevent stretch marks and to keep your skin soft and supple.
14. MAKEUP PRIMER
Egyptian Magic can be used as a makeup primer as well! Who knew?! The brand claims that many makeup artists rely on it at every Fashion Week to create a dewy and glowing make-up look. They apply the balm on the entire face or to highlight specific features such as cheekbones, eyelids or eyebrows. You can even use it to set your eyebrows or mix a liquid illuminator with your Egyptian Magic and use as a highlighter for a light contouring!
15. HYDRATING MASK
If your skin is feeling dry, tight or dull, apply Egyptian Magic as a face mask and let the natural ingredients sink in. Apply a layer of Egyptian Magic on your skin, leave for 30 minutes and remove with a hot cloth. Your skin should wake up feeling much more nourished!
16. CRACKED HEELS AND ELBOWS
Egyptian Magic can be applied to any dry area from head to toe! Here's a tip shared by the brand: before going to bed, rub some Egyptian Magic into heels and put on a pair of socks. You'll wake up in the morning with nourished and restored feet!
There you have it! Egyptian Magic takes the term 'all-purpose' to a whole other level! Shop the product on our website today!