UV rays, pollution, and various lifestyle factors can generate damaging free radicals that can prematurely age skin. SkinCeuticals antioxidants enhance protection against environmental damage caused by free radicals and improve the appearance of fine lines, wrinkles and brighten the skin's complexion.
Serum 10 AOX+: The Introductory Antioxidant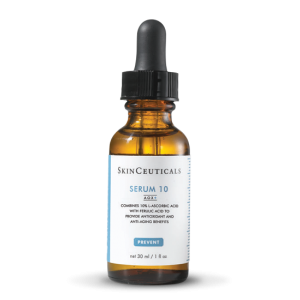 Ideal for sensitive skin types or conditions to help restore healthy looking skin, Serum 10 AOX+ neutralizes free radicals, defends against environmental damage, and helps prevent accelerated aging.
CE Ferulic: The Wrinkle & Fine Line Fighter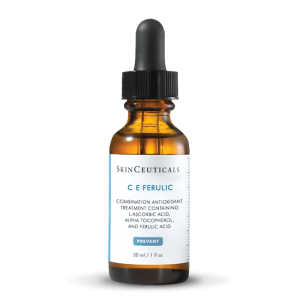 C E Ferulic® is a revolutionary antioxidant combination that delivers advanced protection against photoaging by neutralizing free radicals, boosting collagen synthesis, and providing unmatched antioxidant protection. More protection means more youthful looking skin and better defense against environmental aging.
Phloretin CF: The Skin Brightener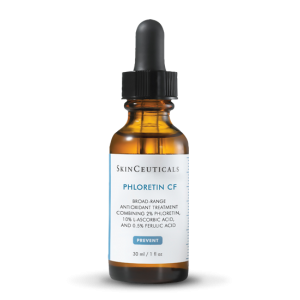 This broad-spectrum treatment provides advanced environmental protection to defend skin against the reactive molecules (including free radicals) that are known to cause cellular damage. In addition to its superior antioxidant capabilities, it has been proven to correct existing damage from the inside out.
Resveratrol BE: The Nighttime Solution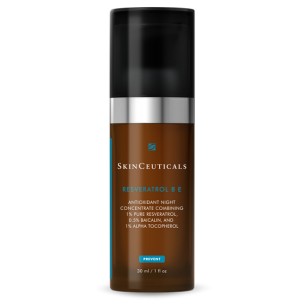 This antioxidant night concentrate with a maximized concentration of 1% pure, stable resveratrol, synergistically enhanced with 0.5% baicalin and 1% alpha tocopherol (vitamin E) boosts skin's own antioxidant defense system to promote its natural nightly repair for improved radiance, elasticity, and density.
To see our complete selection of SkinCeuticals products, please click here: SKINCEUTICALS
We always recommend that you visit us in store or contact us directly to help you with your skin care regimen to make sure you choose the products that are right for you and will help you achieve healthy skin.