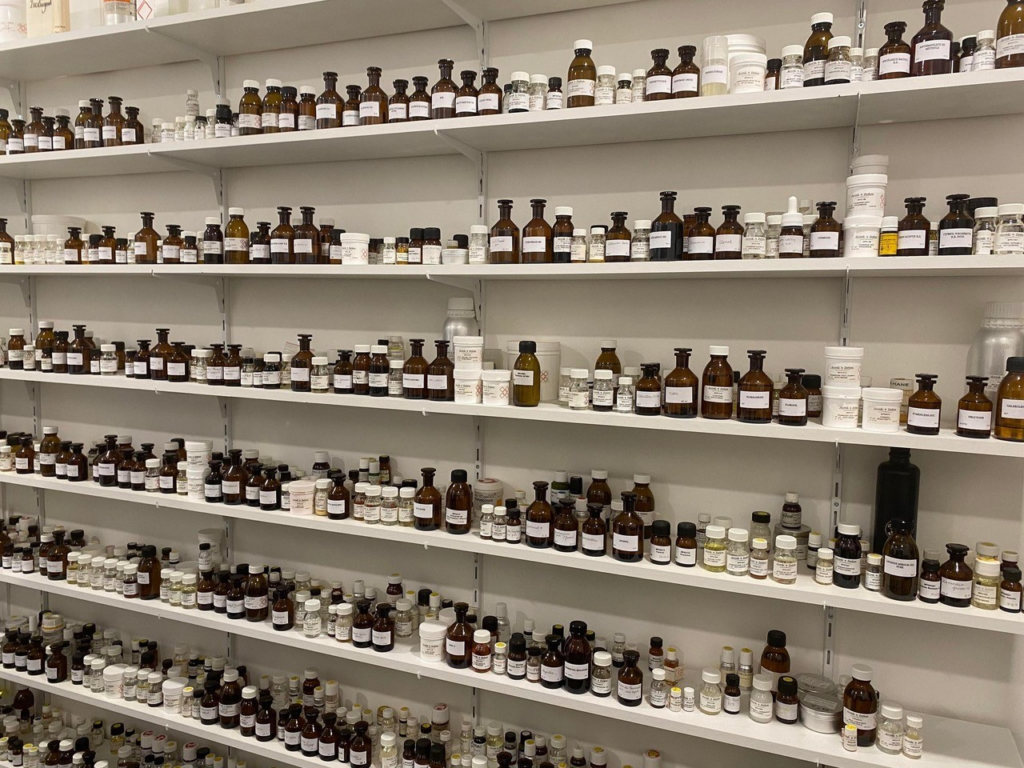 The library of fragrance ingredients in perfumer Marc-Antoine Corticchiato's studio.
Since late July, the unique fragrance of Parfum d'Empire, a brand founded in 2002, has been wafting through the Canadian air, now exclusively available at Etiket. Renowned for its captivating perfumes and rich olfactory heritage, this journey goes beyond mere commerce; it's an encounter with a world of fragrances that transcend borders. I had the exceptional opportunity to explore this realm by meeting the talented founder and perfumer, Marc-Antoine Corticchiato, along with his wonderful team, during a visit to their Paris laboratory in September. This olfactory experience unveiled the secrets behind the creation of each perfume and the deep commitment of this passionate team to the art of perfumery.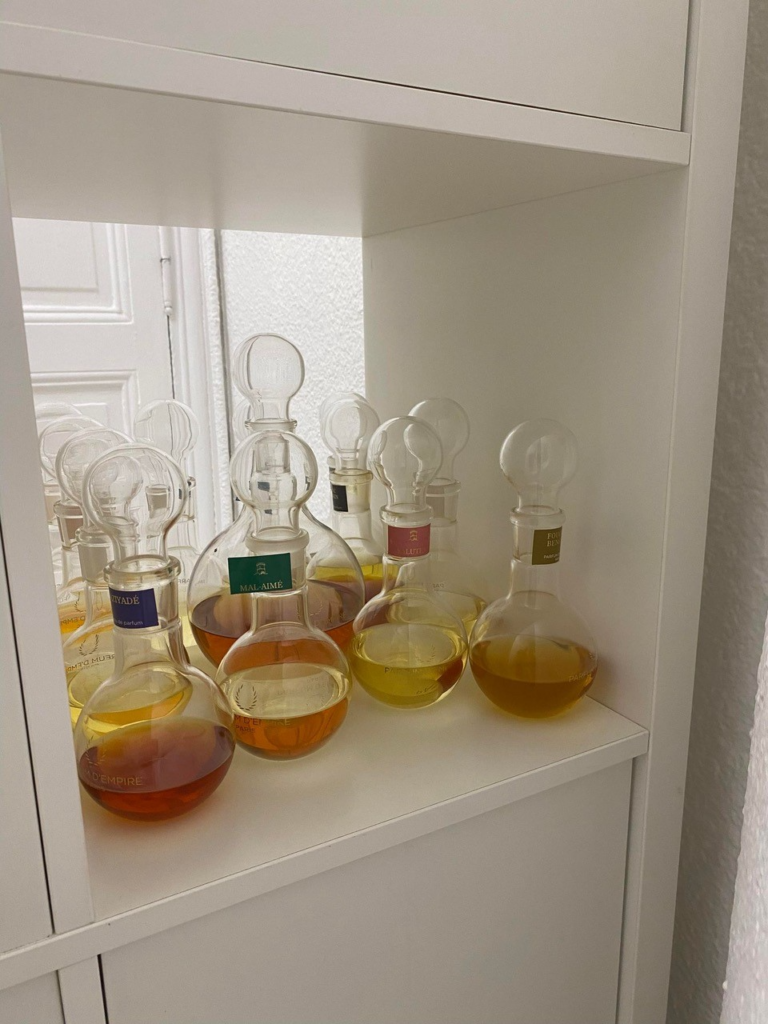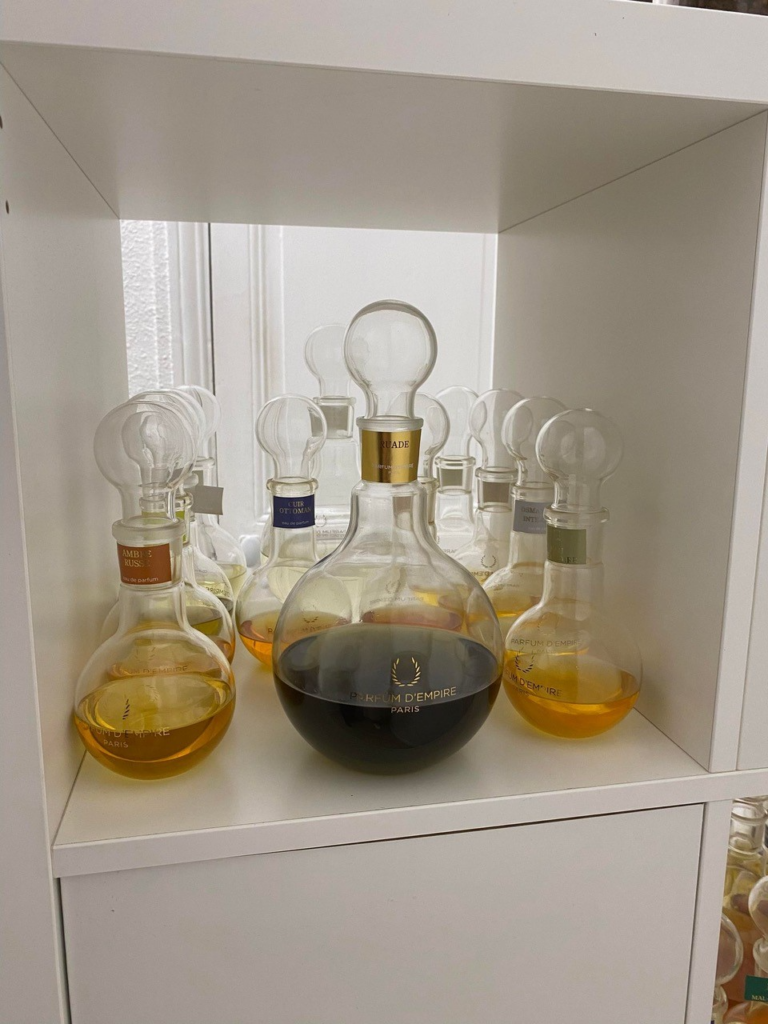 The scented concentrates of Parfum d'Empire fragrances age in round-bottom flasks. This process allows the many ingredients in the formula to merge with each other, polishing the edges of the fragrance before it's mixed with alcohol.
Delving into this captivating olfactory journey reveals the essence of Parfum d'Empire and its connection to Marc-Antoine's childhood in Morocco and Corsica, offering a sensory voyage that awakens the senses and imagination. Marc-Antoine Corticchiato, with a background in chemistry, has always been captivated by the mysteries of plants and their fragrances, which led him to the world of perfumery. He primarily seeks the quality of natural scents to breathe life into his perfumes, emphasizing the art of personal storytelling. Each fragrance becomes an opportunity to convey a personal narrative, to evoke an emotion or a unique experience, creating unique sensory tales that explore the realm of memories and emotions through scents.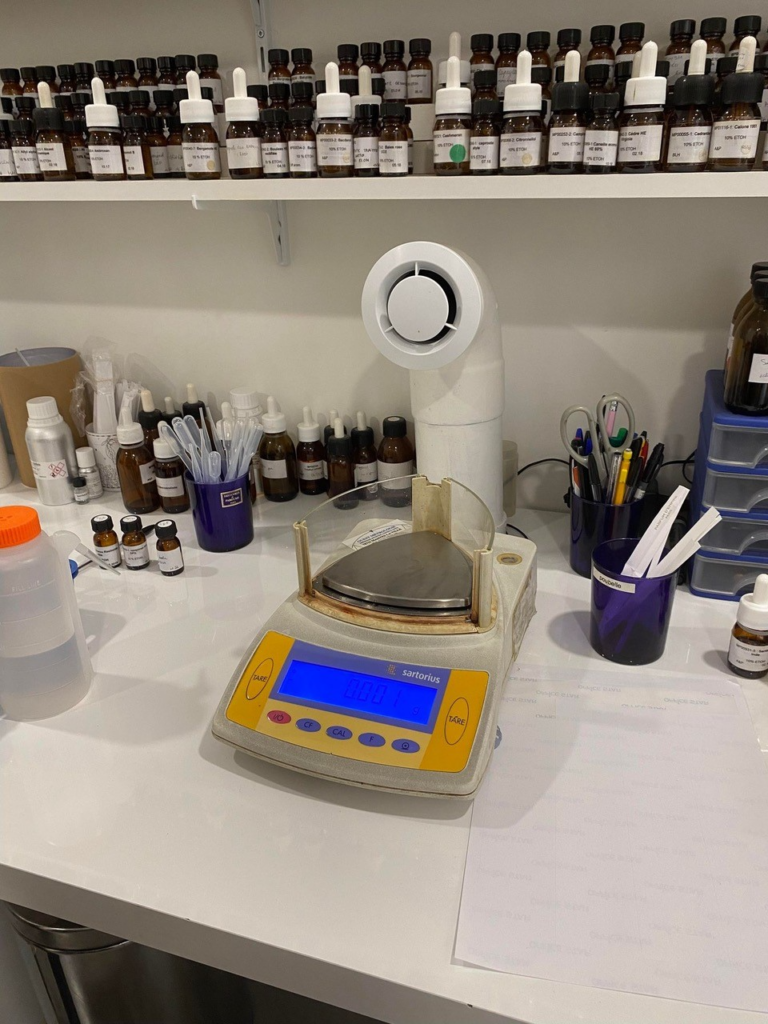 A scientific scale is an essential tool for formulating fragrances. It's used to measure quantities of raw materials down to the drop.
If Marc-Antoine Corticchiato hadn't been drawn into the intoxicating world of perfumery, he would likely have pursued his second great passion: horsemanship. Far from being just another interest, horse riding represents for him a profound emotional and sensory connection with nature, animals, and childhood memories. This passion inspired him to create perfumes capable of capturing the essence of his equestrian experiences. I conclude by expressing my deep gratitude to the Etiket team for making this experience possible and to the entire Parfum d'Empire team for their warm and generous welcome.
Emmanuelle Bénard
Fragrance Specialist at Etiket