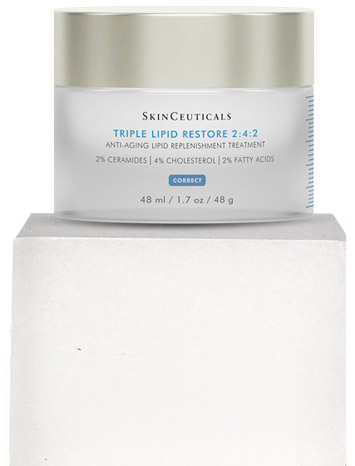 As new products are launched we always get excited, especially when it is from a science based brand like SkinCeuticals. We know that whenever they come out something new they are filling a need, have done the research and the testing and are launching a product that our customers will want and see results with. With the recent launch of Triple Lipid Restore 2:4:2 this was no different.
What is Triple Lipid Restore 2:4:2 ?

Simply put, it's an anti-aging treatment to restore lipid loss. What is lipid loss? Lipids are what we lose as we get older causing the skin to sag, lose elasticity, and overall, causes skin to become dull and develop wrinkles, and other signs of skin aging. If you are  under 50 this is something that you may not need to worry about, but once you cross that line, this is when this may be a concern.
Our skin's ability to rejuvenate slows down and we see a reduction in ceramides, cholesterol, and fatty acids, all factors that help in cellular repair and renewal processes. Triple Lipid Restore is the first and only cosmeceutical product to combine a proprietary ratio of lipids in a maximised concentration of 2% ceramides, 4% cholesterol and 2% omega-fatty acids, which play key roles in the repair of both aged and dry skin.
What will it do for you?
This product corrects visible signs of skin aging to bring you skin that is firmer, fuller, and more youthful looking. If you have dry or dehydrated skin you will love this product. It is part of the CORRECT protocol that has been SkinCeuticals key to success: Prevent, Protect, and Correct. By using Skinceuticals Triple Lipid Restore 2:4:2 , you will help to raise the amount of lipids in your skin. With more lipids, your skin will be able to repair itself better and repair damage in the skin which will help to strengthen the skin's barrier and in improving protection, your skin will be firmer, more supple and more hydrated.
Clinical Improvement in Signs of Accelerating Aging.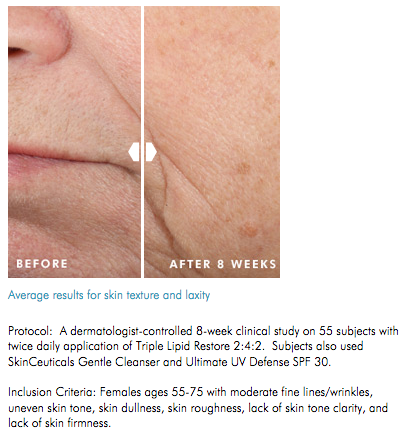 SkinCeuticals has done the studies to prove what they are claiming and the results are significant. Their data shows a significant 40% improvement in skin texture and smoothness and 18% improvement in pore appearance. An 8-week clinical study demonstrated statistically significant improvements in the key signs of accelerated aging, such as skin clarity, evenness, radiance, smoothness, laxity, and pore appearance (p<0.05). Triple Lipid Restore is proven to:
Refill Essential Skin Lipids – more than doubled levels of ceramides (57%) and cholesterol (52%), and increased triglycerides by 13% after 8 weeks
Restore External Barrier– 39% improvement in hydration after just 24 hours, with 8x faster barrier recovery following tape stripping on treated versus untreated site
Support Natural Repair– 2x increase in mature versus immature corneoctyes (stratum corneum cells), signifying improved barrier quality and reduced susceptibility to external aggressors
[SkinCeuticals, Data on File. A dermatologist-controlled 8-week clinical study on 55 subjects with twice daily application of Triple Lipid Restore 2:4:2.]
Now if this is all too technical, we understand, we just know that if you are over 50 and have dry or dehydrated skin, this will be a perfect  addition to your skin care regimen – the last product to apply in the morning after your CE Ferulic (Prevent) and before your sunscreen (Protect), and the last product to apply at night.
To see all of our SkinCeuticals products, please click here: SKINCEUTICALS.
We always recommend that you visit us in store or contact us directly to help you with your skin care regimen to make sure you choose the products that are right for you and will help you achieve healthy skin.