I am often asked how I choose which perfume brands I bring into Etiket. I wish I could say there was a formula or a science or it was even a well-studied business decision, but it is never any of those. Very simply I fall in love with the fragrances and the story that is part of those fragrances. Mona di Orio perhaps exemplifies this better than any other collection of perfumes that we have in the store.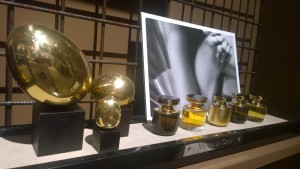 I am sure I had heard of Mona di Orio before I went to Pitti Fragranze (the niche perfume show in Florence) in September of 2014, but I had never smelled it. It was not even on my radar as one of the brands I wanted to look at when I was there. I remember so clearly how it happened that I met Jeroen Oude Sogtoen  (designer and co-founder of Mona di Orio) and when he walked me through the collection.
The collection was being shown in a booth with other brands and I was looking at another brand from New York when the Mona di Orio bottles caught my eye. I finished sniffing where I was and made my way over to see what the gold bottles with their oval shapes were all about. As I stood there looking at the collection Jeroen came up to me quietly and asked if I had any questions. I introduced myself and asked him to take me through the scents.
A perfume show is a very noisy and animated place. But when Jeroen started to tell me the story of who Mona di Orio was, it seemed as if there was no one there but he and I as he took me on a journey.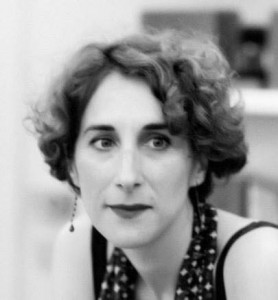 The story of Mona di Orio is not a happy one, but it is a beautiful one, in the true sense of how romance in literature is defined. It is like a prose narrative of heroic deeds in an imaginary setting that is not imaginary at all. It is the story of Mona, a woman who by chance falls into perfumery and is trained by a master perfumer, Monsieur Edmond Roudnitska. She finds her true calling and begins her journey into the world of perfume. Through coincidence (or was it?) she meets Jeroen and with his vision for design and her nose they create the fragrance house of Mona di Orio in 2004 and launch their first three fragrances: Lux, Carnation and Nuit Noire.
As Jeroen told me the story and took me through each of the fragrances I was simply moved to tears. The passion of their partnership for what they did together was so strong and so beautiful that it had to come out in the scents that Mona created. Mona's ability to take experience, emotions and moments from our lives and pour them into a bottle, and Jeroen's vision of design meld everything into one perfect collection.
Mona passed away in 2011, and Jeroen has continued on the legacy that they had created together. It seems to me pointless to describe these fragrances, words never do justice to anything we smell, you need to experience them yourselves to truly feel and sense the complexity of light and dark and shadow that is the signature of Mona di Orio.
My favourites are Myrh Casati and Nuit Noire but there is not one that I would not wear or suggest depending on my mood or simply the way the light is falling that day. These are fragrances to be worn and enjoyed for their pure and utter ability to make us dream, remember, or make us smile
Simon Tooley
Owner of Etiket