There are many products that can help to relieve dry, flaky skin, and it's good to know that lotions and creams are no longer your only option. Body oils, have been around for many years, but seem to be more popular than ever lately. Body oils made from natural ingredients help to protect the skin's lipid barrier and prevent moisture from evaporating. Most natural oils are easily absorbed, non-greasy, and non-comedogenic. Some ingredients you may find in body oils include the following: sunflower, jojoba, sweet almond, grape seed, buriti, argan, olive, and coconut. Avocado and apricot oil are also common ingredients, and are great for aging skin.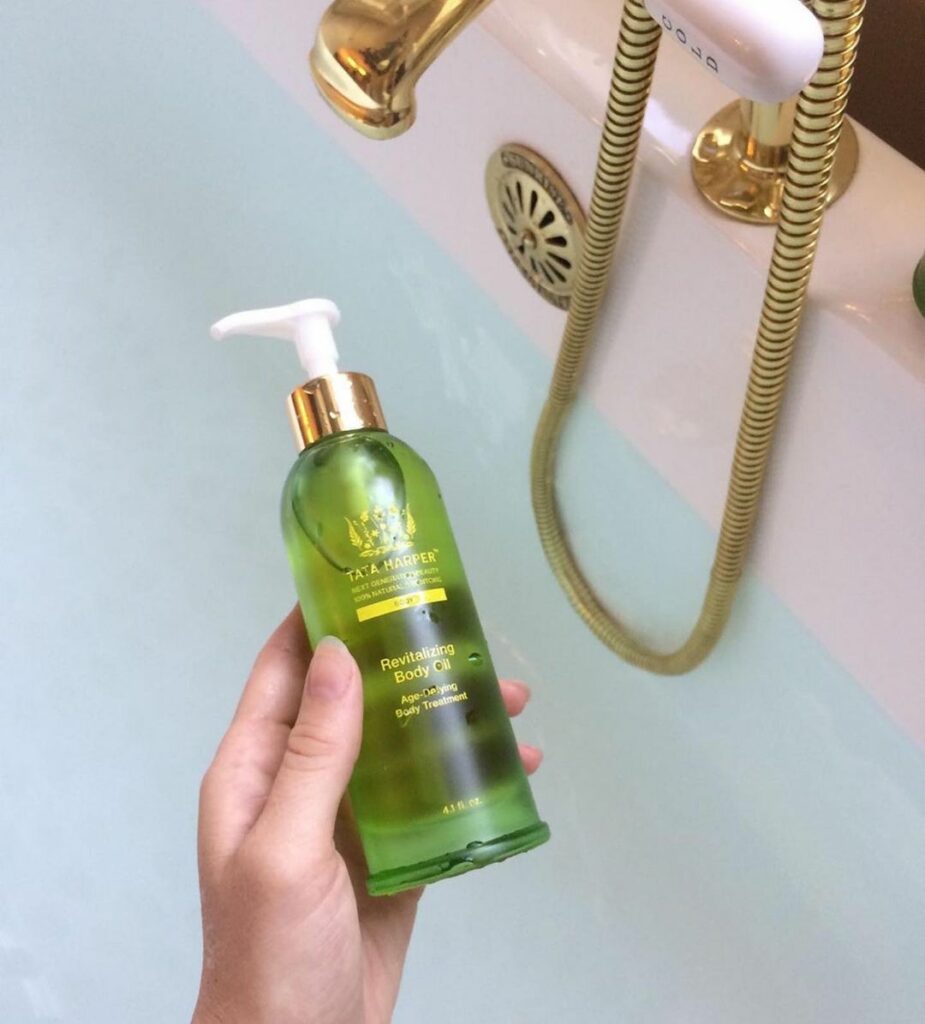 While summer and winter skin may call for different skincare regimens, here is one pro tip that will ensure perfectly moisturized skin every time: Rather than relying on moisturizer alone, double up with a body oil to reveal ultra soft moisturized skin any time of year! Applying both body oil and your regular cream or lotion will lock in extra moisture and leave you with radiant and glowing skin.
Always apply your body oil immediately after your bath or shower — when the skin is clean and still moist, your body oil will more easily penetrate and absorb into your skin. Massage the oil into your skin and wait a few minutes. Blot away any excess oil with a towel and wait a few more minutes, then apply your lotion, cream or body butter of choice. Wait 5-10 minutes before getting dressed to make sure it's completely absorbed. We also recommend exfoliating regularly!
Here are some of our favourite body oils to add to your moisturizing routine:
Sahajan – Ritual Body Oil – 100% Natural
This luxurious, natural and organic body oil glides across your skin, absorbing quickly and moisturizing your skin to a silky softness. This oil will leave a healthy glow in its wake. In Ayurveda, it is believed that there is no greater act of self-care than anointing oneself with oil from head to toe. Sahajan has taken the best ingredients Ayurvedic tradition has to offer and created this award-winning body oil.
Tata Harper – Revitalizing Body Oil – 100% Natural & Organic
Invigorating for all skin types, this oil is especially revitalizing for mature and sensitive skin. Gentle, anti-inflammatory Calendula oil regenerates dry, dehydrated skin with vitamins and helps heal skin problems, while fine, silky grapeseed oil provides all the essential moisturizing elements. Arnica oil relieves swollen and puffy skin and helps soothe muscle aches, reduce inflammation, and heal wounds. Soothing, sensual Sandalwood is perfect for all complexions, and especially nourishing for dry and mature skin. Neroli provides a fresh floral perfume.
Environ Body Range – A, C & E Body Oil
An ultra-fine oil that is formulated to provide the skin with a very high concentration of vitamins and antioxidants to help energize dry and sun damaged skin, helping to give the skin a healthy appearance.
Liquid luxury your whole body has been thirsting for. Beauty body oil, a new formula inspired by RMS Beauty's coveted beauty oil, is now available for every inch of your skin. With this oil, you'll have the power to rejuvenate and restore even the most sensitive skin. This rich and fast-absorbing (never greasy) body oil rejuvenates and restores even the most sensitive skin. Suitable for all skin types.
Agent Nateur – holi (body) Ageless Body Serum
Elude the appearance of aging with holi (body), formulated to help nourish, hydrate, and renew. Our sumptuous blend of luxurious oils absorbs quickly for a satin, dewy finish and is enriched with ingredients containing vitamins, antioxidants, and natural organic compounds that visibly firm and smooth the skin.
Carefully formulated to match skin's natural lipid balance, the oil is easily absorbed, leaving the skin soft with a silky sheen. Organic Rosehip oil regenerates the skin and, together with vitamin E, offers antioxidant protection. Grape seed, Apricot kernel, and Avocado oils, naturally rich in essential Fatty Acids, replenish moisture levels and restore a healthy glow.