Active Renewal Cleanser, the latest addition from award-winning brand Vintner's Daughter has arrived, adding to their line of simple, minimalist skincare. Four years in the making and their third product launch in ten years, we are excited for you to discover this face wash like no other. Founder April and her team answered some of the most asked questions about their newest skin-beautifying formula.
Keep on reading to learn more about Active Renewal Cleanser and how to incorporate it into your daily routine.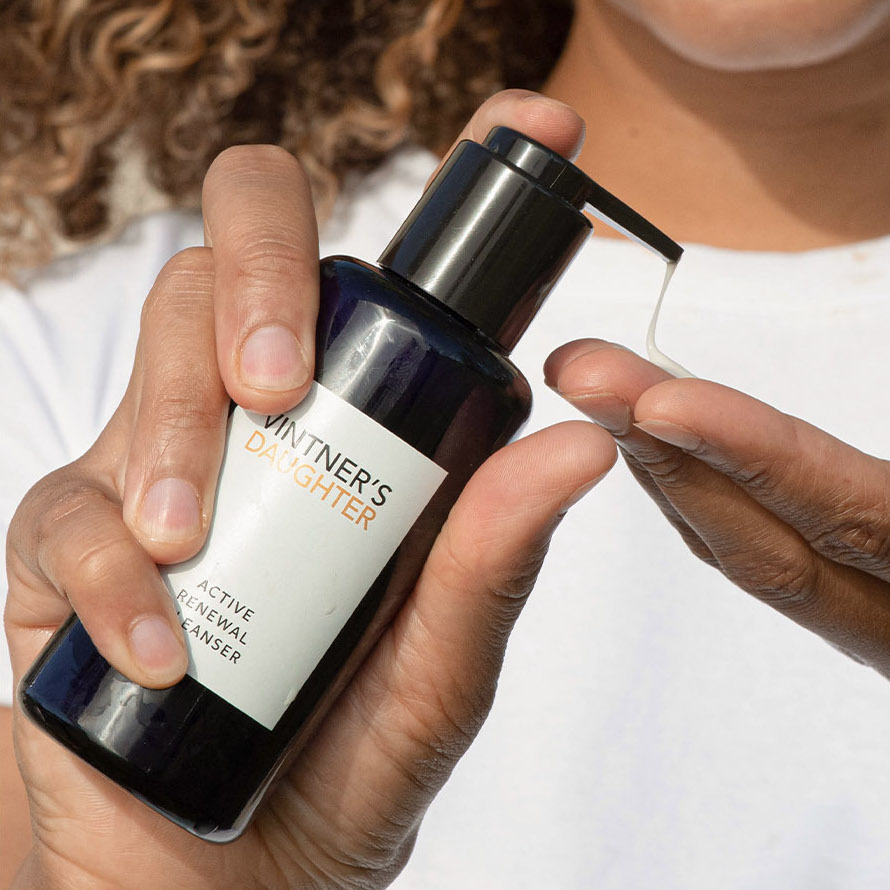 Q&A WITH VINTNER'S DAUGHTER
WHAT MAKES ACTIVE RENEWAL CLEANSER DIFFERENT?
APRIL & TEAM: "This innovative formula not only thoroughly cleanses, but also invigorates the skin so that it is more healthy, PH balanced, more plump, clear, and bright. It's hard to put into words, but it just feels renewed and energized with each cleanse."
WHY CLEANSER NOW?
APRIL & TEAM: "The short answer is that we heard you. We often ask what products you want to see next and the first amongst them has always been cleanser. We too felt that there was not a formula that lived up to our standards of performance, quality and craftsmanship. So we spent nearly four years formulating Active Renewal Cleanser."
WHAT MAKES IT A 2-IN-1 CLEANSER?
APRIL & TEAM: "At the heart of the formula is Vintner's Daughter Phyto Radiance Infusion™ which harnesses the power of full-spectrum water and oil-soluble solutions to thoroughly and gently cleanse the skin with every use."
WHICH SKIN TYPES ARE BEST FOR ACTIVE RENEWAL CLEANSER?
APRIL & TEAM: "Active Renewal Cleanser benefits all skin including blemish-prone, sensitive, dehydrated and/or mature skin. Best results when used daily morning and night."
WHAT IS THE ROUTINE?
APRIL & TEAM: "Adding Active Renewal Cleanser before you use Active Treatment Essence and Active Botanical Serum ensures your skin has all it needs to be healthy and radiant."
HOW DO YOU APPLY ACTIVE RENEWAL CLEANSER?
APRIL & TEAM: "For best results, use daily morning and evening. After splashing cool water on your face, dispense 2-3 pumps into your hands. Apply to your face and neck. Rub in a circular motion to create a rich foaming action for 30-60 seconds. Rinse thoroughly. For a beautifully simple routine, follow with Active Treatment Essence and Active Botanical Serum."
I AM NOT GETTING A LOT OF FOAM WHEN USING ACTIVE RENEWAL CLEANSER. IS THAT NORMAL?
APRIL & TEAM: "Not only is it normal but it is better for your skin that a cleanser does not create foamy bubbles. Proper pH balance in the skin is something that is often overlooked for the sake of a showy, foamy or bubbly cleanse. We describe our formula as gently foaming—the result of combining the nutrient-rich formulation with a small amount of water and then moving it around your face."
IS THERE FRAGRANCE ADDED TO ACTIVE RENEWAL CLEANSER?
APRIL & TEAM: "There is no fragrance added to Active Renewal Cleanser — everything you smell is natural whole plants."
HOW LONG UNTIL I SEE RESULTS WITH ACTIVE RENEWAL CLEANSER?
APRIL & TEAM: "Most individuals see a visible improvement in their skin within days. Because of our whole plant nutrition, results will increase over time."
HOW LONG WILL A BOTTLE OF ACTIVE RENEWAL CLEANSER LAST?
APRIL & TEAM: "The 115ml bottle of Active Renewal Cleanser will last approximately 40 days with AM/PM application. It will last approximately 80 days if used once a day."
WHAT IS ACTIVE RENEWAL CLEANSER'S SHELF LIFE AND STORAGE?
APRIL & TEAM: "Once opened, the shelf life is 12 months. Proper storage and care of your Active Renewal Cleanser includes keeping it away from extreme temperatures (cold or hot) and keeping it out of direct sunlight."
IS ACTIVE RENEWAL CLEANSER TESTED ON ANIMALS?
APRIL & TEAM: "Active Renewal Cleanser is vegan and is not tested on animals."
IS ACTIVE RENEWAL CLEANSER SAFE FOR USE DURING PREGNANCY?
APRIL & TEAM: "It is always best to consult your doctor when using any active product, but there are no ingredients that have contraindications for pregnancy."
Shop all Vintner's Daughter products at Etiket.ca.