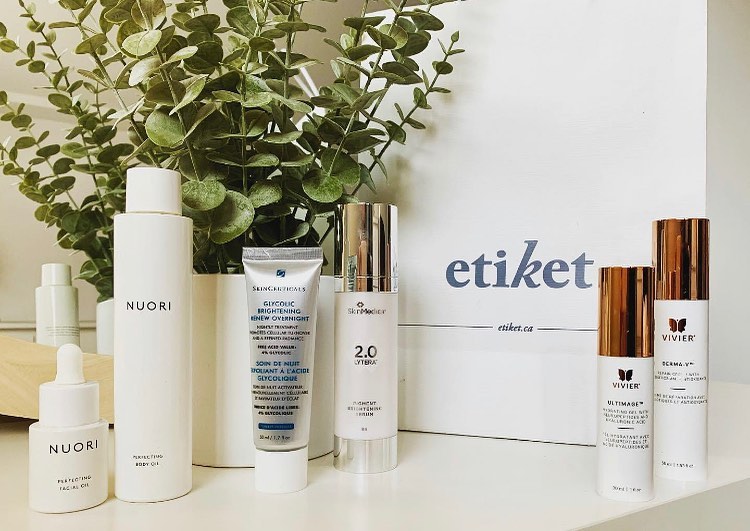 Have you met Paule, our medical aesthetician? If you've visited our boutique, chances are you have. She's the petite brunette with the glowing skin. Not a wrinkle, blemish or sign of pigmentation in sight. Her skin is what many of us are trying to achieve: a healthy, bouncy, glowing complexion that you couldn't put an age on. Therefore, it only seems natural to check out her skincare routine. Whatever she's doing it's working, and we want in on her secrets. Here is the full list of products Paule credits to keeping her skin looking young and radiant.
NUORI
This Danish skincare brand creates pure and 100% natural skincare products, completely free of synthetic additives that artificially prolong the shelf like of skincare formulas. Freshness ensures peak efficacy, as active ingredients are not weakened by time-related breakdown.
Nuori offers deeply hydrating and repairing products formulated with the highest quality ingredients. It's no wonder why Paule turns to them. In fact, out of the range, Paule is currently using Nuori's Perfecting Facial Oil and the Perfecting Body Oil. Both oils are designed to deeply nourish and balance the skin while helping diminish the visible signs of aging. They also both contain Vitamin E, which means that they offer antioxidant protection.
SKINCEUTICALS
If you're remotely into skincare, chances are you've heard of SkinCeuticals before. In fact, this brand has designed some of the most talked about skincare products in the industry: C E Ferulic, Triple Lipid Restore 2:4:2, Discoloration Defense, and the list goes on. However, Paule is currently using their new Glycolic Brightening Renew Overnight.
Formulated with a 4% glycolic acid, it works at an optimal concentration to promote cell turnover. It's complimented by a 2% phytic acid to promote skin clarity and brightness. This overnight treatment hydrates while improving the appearance of skin texture and tone, revealing brighter, more youthful looking skin. Who doesn't want that?
SKINMEDICA
Another giant in the skincare industry is SkinMedica. Like SkinCeuticals, their products have garnered much praise over the years. Take their Lytera 2.0 Serum. This longtime cult-favourite was formulated to address the appearance of stubborn skin discoloration. This non-prescription, non-hydroquinone, skin brightening product has not only been proven to lighten discoloration, but also to improve the overall appearance of the skin.
SkinMedica promises results in as little as 12 weeks. This product definitely has a hand in Paule's flawless complexion!
VIVIER
This Canadian Beauty brand is all about healthy skin. Vivier has formulated a wide selection of skincare products that tackle everything from hyperpigmentation to aging skin. You may have heard of their Vitamin C serums. They are, in fact, what launched the brand back in the 90s.
Paule loves the Ultimage and Derma-V creams for their ability to hydrate, repair a deeply nourish the skin. Ultimage is an innovative dual-action complex with neuropeptides and hyaluronic acid that works to soften expression lines and wrinkles, and boost hydration for a smoother, ageless complexion.
Derma-V, on the other hand, is a skin repair and barrier cream with prebiotics and antioxidants. This product has been carefully crafted with a blend of 5 skin repairing ingredients that work with your skin to restore skin health and hydration levels while you sleep.
Need help putting together a skincare routine that works for you? Contact us at [email protected] or call us at (514) 687-3886. Our beauty experts will help you find the right products for your skin type and concerns!